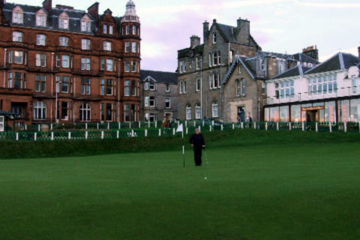 The casual, welcoming attitude at the Old Course is as impressive as the storied 18 itself. (Brandon Tucker/TravelGolf)
The people's golf course: No ego or attitude at historic, public St. Andrews

By Brandon Tucker,
Managing Editor
ST. ANDREWS, Scotland - Being able to play the world's most famous golf course is something that's easy to take for granted.
John Stewart of the St. Andrews Links Trust, operator of the Old Course and five other public layouts in town, tells a story about an English friend who learned this the hard way.
Stewart's pal was in the States recently and found himself near Augusta National. He thought he'd swing by the clubhouse to pick up a souvenir.
As he approached Magnolia Lane, a giant gate blocked his way. He rang an intercom and relayed to the security guard on the other end his wish to drive up, catch a peek, buy something and be on his way.
"No." Click.
"Alister Mackenzie would cringe at the thought of that," Stewart said.
What did he expect? American golfers might mutter to themselves. You just don't drive up and waltz into Augusta.
Maybe so. But the rarefied, elitist air of storied U.S. golf courses just makes a visit to the Old Course at St. Andrews that much more special.
This may be golf's most hallowed ground, but the average duffer will feel more comfortable here than at most courses in Palm Springs or Scottsdale.
There's no ego or corporate attitude. The Links Trust charter states that the course must always be available to the people of St. Andrews; social status or wealth will never be a factor. From the public locker rooms to the casual, welcoming starters and rangers, it remains very much the people's course.
"The last time Bill Clinton played on the Old Course several years ago he played with [a Royal and Ancient Golf Club] member, a carpenter and a retired dentist," said John White of St. Andrews Links Tours, who frequently makes the short trip up for a round from his home in Edinburgh.
If you're at all familiar with country club golf in America, the Old Course can seem almost shockingly casual. You won't find barbed-wire fences, "No Trespassing" signs, security cameras or night watchmen. Anyone, playing or not, can walk the course, take photos (so long as they're not for commercial reasons) or simply loiter, as long as they stay out of the golfers' way.
Children and dogs scurry across the 1st and 18th fairways before someone launches a drive over their heads. Things viewed as nuisances at most golf courses are embraced here.
After the golfers retire for the night and the course is empty once again, you can walk the eerily calm grounds as you please, accompanied only by the sound of waves crashing on the nearby shores.
On Sundays, in a tradition as old as the course itself, the Old Course closes and becomes a public park. People picnic, play Frisbee, walk the Swilcan Bridge, bask in the aura - anything but play golf.
Getting on St. Andrews
Open to the public it may be, but this being the most famous course in the world, getting a round isn't as simple as arranging a tee time. Demand is high. Still, it's easier than you might think.
Most would-be players enter a lottery, with tee times awarded a day in advance. Chances vary based on the number of entrants, but the odds are seldom worse than one in four. There are more hopefuls in the summertime, but also more slots, as the longer days allow tee times of 6 p.m. or even later.
"If you've got three days you'll always get on the Old," said White, whose agency can arrange guaranteed tee times. "All you need is two things: patience and courtesy."
A handicap certificate is also required. The starter won't budge on this.
Peak-season rates for 2007 are £125 (about $245 as of early 2007), but few golfers if any leave feeling ripped off. Off-season rates are lower, and the course is almost always in good condition thanks to a staff of 60 greenskeepers and the sandy, permeable soil beneath.
In many ways, the Old Course feels like a backyard municipal. Except this place reputedly gave birth to a pastime that's been embraced the world over and hosts the planet's best golfers every five years.
For the rest of us, it's one hell of an 18-hole ride.
March 9, 2007
Brandon Tucker is the Managing Editor for Golf Advisor. To date, his golf travels have taken him to over two dozen countries and over 500 golf courses worldwide. While he's played some of the most prestigious courses in the world, Tucker's favorite way to play the game is on a great muni in under three hours. Follow Brandon on Twitter at @BrandonTucker and on Instagram at BrandonTuckerGC.