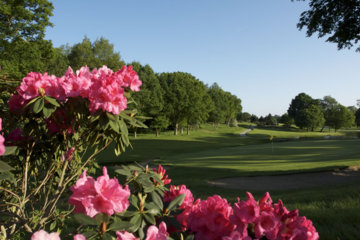 Gorgeous azaleas and rhododendrons aren't the only reminders of Augusta at Stoke Park. (Courtesy of stokeparkclub.com)
Stoke Park golf course in England: Love lends just the right touch
By Tom LaMarre,
Contributor
STOKE POGES, England - Stand on the seventh tee at Stoke Park golf course and you get the feeling you might be thousands of miles away.
Like on the famed 12th hole at Augusta National Golf Club, one-third of the dreaded "Amen Corner," named by Herbert Warren Wind of Sports Illustrated in 1958.
"When H.S. Colt designed what was then Stoke Poges Club (which opened in 1908), Alister MacKenzie was his assistant," explained Stuart Collier, head golf professional at Stoke Park. "MacKenzie used the design from our No. 7 for No. 12 at Augusta."
A quarter of a century later, MacKenzie was commissioned by the great Bobby Jones to design a course on the site of an old nursery in Augusta, GA, where Jones founded the Masters, a tournament that has grown to rival Britain's venerable Open Championship.
When MacKenzie reached a pocket of land in Augusta framed by tall trees and bisected by Rae's Creek, he obviously remembered his days at Stoke Poges with Colt, who also designed revered Pine Valley Golf Club in New Jersey "acclaimed as the finest course in the United States."
"If you put pictures of the holes side by side, you might or might not see the resemblance," Collier said. "But they play very similarly. It's a three-club green, depending on the wind, which makes for a very scary tee shot. Anything that leaks right is in the stream, left is in the bunker and long is real trouble in the bushes or the back trap leaving a bunker shot downhill with water behind."
"Anything in the left bunker leaves you with the shot from hell and once you get on the green, it doesn't get easier. The slopes are fairly subtle but there are some crazy putts with severe breaks. Par or even bogey is a good score. It's just a great hole."
No. 7 is part of Stoke Park's own "Amen Corner," a fearsome foursome that can stack up with any similar stretch of holes in the world.
First is the 422-yard fourth hole, a slight dogleg right, followed by a 525-yard sweeping dogleg left through a row of trees, and then comes the uphill 408-yard sixth hole. Only when you finish those challenges do you reach the treacherous seventh.
"One trademark of Colt courses is strong par fours, and there are two of them right there," Collier said. "The fourth hole is No. 1 on the stroke index, a difficult driving hole because it doglegs right and there is a big bunker there in the fairway. It's also a tough second shot into a well-bunkered, two-tiered green that has some slope to it."
"On the fifth hole, you need to hit your tee shot around the corner to have a shot to reach the green in two but it's a real risk/reward second shot because of the bunkers in the fairway 100 yards short of the green - another trademark of Colt."
"The sixth hole plays longer than the yardage because it is steep going up to the green. Club golfers sometimes have to just take their medicine and lay up short of the bunkers that are 40 or 50 short of the green. You don't want to go over the green and have to chip down because your ball will roll right off the front of the green. You can't stop it."
"We think it's a good golf course all the way round, but the front nine is a real test."
There are other reminders of Augusta at Stoke Park, especially when the azaleas and rhododendrons are in bloom, most notably on the picturesque 156-yard 11th hole where the tee shot through a grove of trees must carry a lake.
In 1910, in a review of inland golf courses in England, Leslie Dobree wrote: "I will content myself by writing a few appreciations of the finest inland course in the British Isles, Stokes Poges. There are few courses where a player must sum up his position for every shot, and it is mainly for this reason that I think Stoke Poges is the very essence of first-class golf. I wish there were 50 more courses like Stoke Poges in the country."
And there is more of it because in 1998, Stoke Park brought back nine holes which had been dormant since the land was used to grow potatoes during the lean days of World War II, recreating Colt's original 27-hole design.
Moviegoers might recognize Stoke Park from the golf scenes in the James Bond movie, "Goldfinger," especially the car park in front of the distinctive white domed clubhouse. Bond, played by Sean Connery, was driving his souped-up Aston Martin, which was auctioned off in a charity event at Stoke Park a few years ago.
Oddjob, Goldfinger's caddie, threatens Bond by throwing his steel-lined bowler like a discus and knocking the head off a plaster statue. The statue is still there because the film's producers created a duplicate for the beheading in the movie.
Connery, an avid golfer, hit his own shots in the sequence. On the 17th hole, another one of those Colt par fours that plays 418 yards, Goldfinger loses his ball in the rough but Oddjob drops another down his pants leg through a hole in his pocket to save his boss a two-stroke penalty.
Bond gets even on the 18th hole, a demanding 407-yard par four into the wind, when he switches Goldfinger's ball. After Goldfinger putts out to win the match, Bond calls him for playing the wrong ball because Goldfinger had said at the start they were playing "strict rules of golf."
Parts of another Bond film, "Tomorrow Never Dies" starring Pierce Brosnan and Teri Hatcher, also were filmed at Stoke Park, as were scenes from the 2001 hit "Bridget Jones' Diary," with Renee Zellweger and Hugh Grant.
But more than anything, Stoke Park is another one of England's golf clubs that is a slice of British history.
The Stoke Park Estate was first mentioned in the Doomsday Book in 1066, the year William the Conquer was crowned King of England after his victory at the Battle of Hastings.
Queen Elizabeth I owned Stoke Park from 1581-1603 before it was taken over by Sir Edward Cooke, who coined the phrase, "An Englishman's home is his castle."
From 1760-1848, the property was owned by the family of William Penn, who founded Pennsylvania.
They will treat you like a queen or king at the five-star Stoke Park Hotel, which in 1999 became a charter member of Leading Small Hotels of the World, and now offers 49 bedrooms filled with priceless antiques and original paintings and prints.
The signature Stoke Park Mansion, which was designed by James Wyatt and houses the hotel, clubhouse, restaurants and conference rooms, is said to have influenced the architects of the White House since the dome is similar and both edifices have an oval office.
Stoke Park will soon open its $14 million health, fitness center and spa adjacent to the main building, and Andre Agassi, Pete Sampras and Andy Roddick, among others, are expected to play in a tournament at the Stoke Park tennis center the week before Wimbledon.
The Brassiere is a 1920s-style dining room that has a 2AA Rosette rating and the walls are adorned by original prints of vintage automobiles from the famed Monte Carlo rallies of the 1930s. Also, the Colt Bar has a distinct James Bond flavor.
Other fine restaurants near Stoke Park, which is located seven miles from Heathrow Airport and 23 miles from London's West End, are the Fat Duck and the Waterside in Bray, and the Cottage in Wakefield.
For pub food in the neighborhood, try the Red Lion, the Emperor of India or the Foresters.
Also nearby are the Magna Carta Memorial in Runnymead, Windsor Castle, the Village of Penn, Royal Ascot Raceway and Henley-on-Thames, site of the famed Henley Regatta.
There is plenty more good golf in the area at the Wentworth Club in Virginia Water, Foxhills in Ottershaw and the Lambourne Club in Burnham, which is owned by the famed Cliveden Hotel.
Also debunking the theory that the only exceptional golf in the United Kingdom is played in Scotland and Ireland are Sunningdale Golf Club in Berkshire, Royal Birkdale Golf Club near Southport, the Marriott Forest of Arden Hotel and Country Club in Warwickshire and the Belfry Golf Club in Sutton Coldfield, Europe's most prominent Ryder Cup venue.
"We work with golf tour directors in New York and we've been hearing that for a long time, that people just want to go to Scotland and Ireland for their golf," said Joanne Scott, director of sales at Stoke Park. "People come to London for the sightseeing and the theatre, then they go north to play golf."
"But I think we're changing that slowly but surely. We have a world-class hotel, with bedrooms on par with the Cliveden, and a full-service resort. We are getting more people who come for everything else and now throw in a round or two of golf before heading for Scotland or Ireland."
And if you want to play the 12th at Augusta but can't get on at the ultra-private club, come to Stoke Park and play the original.
Tom LaMarre has been a sportswriter and copy editor in California for parts of five decades, including 15 years with the Oakland Tribune and 22 with the Los Angeles Times.