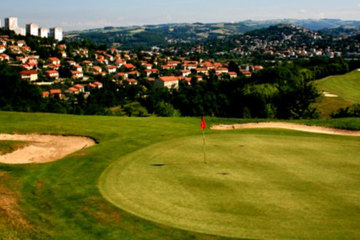 The Golf Club at St. Etienne is a hilly municipal golf course about an hour from Lyon that was built on a former mine and landfill site. (Brandon Tucker/TravelGolf)
Discovering the Golf Club at St. Etienne in France's Rhone-Alps

By Brandon Tucker,
Managing Editor
ST. ETIENNE, France -- St. Etienne, about 60 kilometers southwest of Lyon, is one of those smaller French cities you don't hear much about.
For tourists, it serves as a quiet holiday retreat from bustling Lyon with a good little golf course, the Golf Club at St. Etienne, as well as some beautiful surroundings.
St. Etienne was originally a spot for arms manufacturing back in the 16th century. It has also been the center of the French bicycle industry, and the Tour de France passes through often.
Golf is a relatively new endeavor. The Golf Club at St. Etienne was initiated in 1986 as part of an effort to develop an old mining and landfill site while introducing local youths to golf.
The result is a course that sits on severe terrain, some of which can barely fit a regulation fairway. It creates a shelving effect on many holes, where one fairway is cut out of a hillside, followed by a steep slope to another fairway below. One of the most prime examples is the par-4 fourth hole, a dogleg right that if you miss left, you'll have a hard time convincing yourself to walk all the way down the slope and hit back up.
St. Etienne's opener is a pretty preview of things to come. It's just 277 meters and heads downhill and to the left. The smart play is to take a 150-meter shot off the tee, or you could hit it a little longer, the ball feeding all the way down toward the green - the risk here being a fence and O.B. left.
That said, there are a few spots, especially down the back side, where you can let driver rip, especially on the elevated tee on No. 17 and the par-5 finishing hole. But those spots are few and far between. For the most part, this is a placement golf course, and there are some tricky blind shots. So the first-time visitor will want to be cautious.
St. Etienne Golf Club: The verdict
St. Etienne gets a lot of local play with a little tourist interest from the nearby golf hotel. It's an enjoyable holiday course, with beautiful views of the surrounding hillsides. For the better player, its length will be a bit frustrating at just 5,700 meters.
Green fees at St. Etienne are €55 walking. It's hilly with a few long walks between holes, but many of the local players walk 18. On site is a large driving range and a six-hole short course.
Stay and play at St. Etienne Golf Club
The Golf du Hotel of St. Etienne is close to the golf club and features stylish accommodations, a pool and restaurant. Breakfast is included with your room and features a delicious assortment of fruit and bread to go with the full buffet.
St. Etienne off the golf course
St. Etienne isn't a very large tourist hotbed, but that's a good thing. You can head to nearby St. Victor, a tiny old village, and the Loire Gorges is worth lounging out on the grass, near couples making the most of their lunch break. Or take a boat ride on the lake and visit some beautiful sites, like the lakeside Chateau de Grangent.
August 25, 2009
Brandon Tucker is the Managing Editor for Golf Advisor. To date, his golf travels have taken him to over two dozen countries and over 500 golf courses worldwide. While he's played some of the most prestigious courses in the world, Tucker's favorite way to play the game is on a great muni in under three hours. Follow Brandon on Twitter at @BrandonTucker and on Instagram at BrandonTuckerGC.