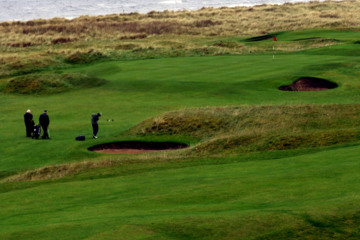 Scotland's Royal Dornoch: Just one of the fabled courses you can virtually visit with our golf podcasts. (GolfPublisher.com)
Tune in to European golf travel with free podcasts
By GolfPublisher Staff,
Staff Report
Podcasts are just like any radio show you listen to in your car on the way to work. The only difference is you choose when to listen to them, unlike conventional radio where you're at the mercy of the station's programming schedule.
Today it's become popular for people to download a podcast to their portable MP3 player and listen to it on the subway or commuter train, or walking to work in the morning. Nearly all podcasts can be downloaded for free and have few or no commercials. They vary in length from a few minutes to an hour or more.
All it takes is a computer, an Internet connection and some speakers. You download a podcast as would an MP3 from iTunes or any other file-sharing program. You can save a podcast to your hard drive and play it as often as you like, or open it from the source site and just listen once.
The following podcasts related to golf travel in Europe are available for free.
Oitavos Golf Club at Quinta da Marinha in Cascais, Portugal
How to get a tee time on the Old Course in St. Andrews, Scotland
Prepare your game for Scottish and Irish links Golf
Krakow Valley Golf Club in Poland
The Czech Republic is central Europe's new golf hot spot
The Open Championship comes to Royal Liverpool
Northwest Ireland: value can still be found on these remote links
Northern Ireland: Links golf's new, historic golf destination
Turnberry and Carnoustie in Scotland: Two British Open venues a world apart
Five common myths of golf in Scotland
Three soon-to-be classics in Scotland
Lisbon: Europe's lesser-known golf destination
November 24, 2006