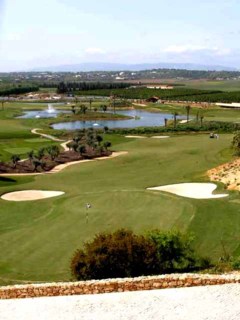 The Monchique Mountains serve as a backdrop to the O'Connor Course at Amendoeira Golf Resort in Portugal. (Katherine Dyson/WorldGolf.com)
O'Connor Course at Amendoeira Golf Resort is changing the face of golf in Portugal

By Katharine Dyson,
Special Contributor
AMENDOEIRA, ALGARVE, Portugal - Several years ago, European golfers discovered Portugal's Algarve, where a temperate climate allowed golf to be played year-round. Today, this sunny coastal region has more than 37 golf courses.
Still, the Algarve, once called "Al-Garbe" by the Arabs who formerly lived in the region, has flown under the radar of many American golfers.
Now, the debut of Oceanico Group's two golf courses by Nick Faldo and Christy O'Connor Jr. in the luxury, 640-acre, Moorish-style Amendoeira Golf Resort should create a stir from golfers across the pond.
While the Faldo Course is set into the hills, the O'Connor Course in the Algarve is laid along the flatter valley plain, a pretty track set against a backdrop of the Monchique Mountains.
Amendoeira Golf Resort's O'Connor Course surprises
Along the forth and fifth fairways, groves of orange trees are close enough to steal a fruit or two. Olive, cork, oak, carob, fig and almond trees dot the landscape, while white and blush-pink villas with red tile roofs are terraced up the hills.
Several ponds and small lakes - especially on the front nine along with well-groomed, well-positioned bunkers filled with fluffy white sand - force you to hit accurate shots while water continues to threaten all the way to the finish.
"I really set out to make it very playable," O'Connor said, "but there is trouble lurking left and right if you lose a run of yourself."
A combination of Bermuda grass bordered by waving fescue and bent grass greens are lushly green thanks to excellent irrigation and a deep sand base laid over rich Portuguese topsoil. Even after a downburst, the course dries out well and grass grows quickly.
Five sets of tees make the course enjoyable for all levels of play, though, said O'Connor. "If we ever have a big tournament here, we can lengthen the back tees and let grass grow in to narrow fairways."
At present, it plays 7,335 yards from the tips and 5,562 yards from the forward reds making it a bit tough for shorter hitters. The par-3 sixth hole, for example, is 213 yards from the back, 137 yards from the front.
Still, landing areas are generous and greens are huge. "I took a bit of stick for my greens, but this course gets a lot of play, so I built in enough space to allow for several pin placements," said O'Connor.
Greens, though fast, do not fall off dramatically. "I think in America, they're making the greens on their risk and reward holes very severe," O'Connor said. "Even if you get within five yards of these greens, it can be a miracle to stay on with your pitch."
Believing in risk and reward holes, O'Connor has included several. "Hole No. 10, a sharp dog leg right, dares you to cut off 60 yards to the right of a bunker, but if you come undone, you'll get wet," said O'Connor.
Two of his par fives are reachable in two. "I still believe in eagles, a wonderful thing," he said. "A pity some designers are eliminating them."
Scary ravines run through both the Faldo and O'Connor courses adding interest and doing double duty as water conduits for runoff from the mountains. They're quite severe in some places, but, hopefully, said O'Connor, "I got the distance right so shorter hitters can lay up."
O'Connor's par 3s are especially noteworthy. Hole No. 4, a 163-yard carry (113 from the forward tee), forces you to hit up and over a tree, a pond and a bunker at the front of the green.
The home stretch has some tricky challenges. Take holes 14 and 15 where there is trouble left and right. "It's like walking a plank," O'Connor said. The 18th, which O'Connor calls a "humdinger," is a fine finishing hole climbing gently towards the clubhouse with a river running along the right side.
Amendoeira Golf Resort's O'Connor Course: The verdict
Amendoeira is a high-end luxury community, so it is not surprising the course is meticulously groomed, rental clubs are brand new Callaway Diablos and amenities, such as on-course tiled bathrooms, are at the top end of the luxury scale.
This course doesn't beat you up. After holing out, you'll want to play it again. "You may lose the odd ball now and then, but hopefully you'll get around okay," O'Connor said.
Both courses in this 640-acre, $700 million luxury golf and leisure resort are open for play while the expansive clubhouse is nearing completion.
On the fringe of the O'Connor Course, a number of large, luxurious villas have been purchased by pros such as Lee Westwood, Padraig Harrington, David Howell, Retief Goosen, Paul McGinley and Darren Clarke.
Also at Amendoeira is a Golf Resort Academy and Callaway Fitting Suite along with the nine-hole, lighted Academy Course, perfect for beginners and those who want to polish up their short game.
Stay in one of the Moorish-style villas or apartments in Amendoeira or any of the other Oceanico resort properties in the Algarve and play not only the Faldo and O'Connor courses, but Oceanico's five other courses as well. Ask about golf packages with villa accommodations, airport transfers and shuttle service to the courses.
All Oceanico courses are managed by Troon Golf. For more information, see www.oceanicogolf.com.
April 21, 2009
Katharine Dyson is a golf and travel writer for several national publications as well as guidebook author and radio commentator. Her journeys have taken her around the world playing courses and finding unique places to stay. She is a member of the Golf Writers Association of America, Metropolitan Golf Writers of America; Golf Travel Writers Organization and Society of American Travel Writers. Follow Katharine on Twitter at @kathiegolf.