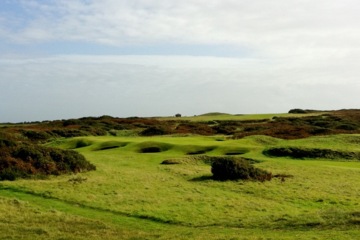 Bunkers steal the show at Royal Porthcawl Golf Club in Wales. (Brandon Tucker/TravelGolf)
Royal Porthcawl Golf Club in Wales: The sand makes it special

By Brandon Tucker,
Managing Editor
PORTHCAWL, Wales -- On the second of the three beachfront opening holes at Royal Porthcawl Golf Club, I was sniffing around near the fence that separates the golf course from the beach, searching for my wayward drive.
On the other side of the fence is Rest Bay and a public walking path that receives steady traffic from locals and day visitors from Cardiff and around the U.K. One of these walkers, an elder man, picked up a shiny Pro-V1 sitting on beach rocks, tossed it to me and bid farewell.
I inspected it like I'd never seen it before and thanked him. Sure, I had pulled a drive off the second hole that in all likelihood found its way over the fence, but I sure don't play shiny new Pro-V1s on links golf courses.
Beaches attract visitors and surfers to the town of Porthcawl from Wales' most industrious city of Cardiff, which is about 25 miles away. It's a big reason why the golf club was founded in 1891 by a group of coal and shipping businessmen on such a spectacular sight so close to the city.
When the tide rolls into the bay, waves are often violent, thanks to the exposed location on the Bristol Channel. When the tide rolls out, it gives way to a long expanse of packed sand.
"It's great for the golf swing to go out there and hit balls off it," suggested Alex Smith, an assistant professional at Pyle & Kenfig Golf Club, which at one point is separated by only a fence from Royal Porthcawl.
Once you're on the golf course a different kind of sand takes your attention off the beach and toward the many deep bunkers. The sod-walled pot bunkers are deep and plentiful, though not as big as Carnoustie's mighty bowls. But the difficulty in Porthcawl's smaller size is two-fold. For starters, the ground around them usually swallows up balls into them. Once inside, finding a flat stance and a full swing is a luck of the draw.
Try as you might, you're bound to find yourself in one eventually, and you may not be alone. The short, par-3 14th hole is surrounded by them, and despite a shot of just about 145 yards, three of our four golfers in my group -- in various ways -- ended up tip-toeing around each other in the same bunker right of the pin.
"Last one out rakes," became the rule as we all took turns hacking away, trying to get a backswing and an even stance.
There is design genius to Porthcawl outside the bunkers, too. While some links feature consecutive holes that play in the same direction, Porthcawl's routing subtly changes on almost every hole. So if you're smart, you'll throw a lot of grass in the air before pulling a club.
And rarely do traditional links golf holes play downhill, straight toward the sea, which is what makes Porthcawl's 18th hole so special. It plays gently downhill, toward the sea to a green right in front of the fence (the first hole actually criss-crosses over the 18th). The green is more than 40 yards long, so on the first tee take note of the pin position or you may have a 100-footer to navigate.
Royal Porthcawl Golf Club: The verdict
Royal Porthcawl is the only links golf course in Wales that commands a green fee in line with Scotland's medal links. At 125 pounds on the weekend, Royal Porthcawl is nearly double the cost of the rest of the links in the area such as Southerndown Golf Club and Pyle & Kenfig. Stay-and-play packages are also available at the on-site dormie house.
The 1995 Walker Cup host, Royal Porthcawl could certainly host an Open Championship as a par 70, especially since the par-5 12th hole was extended recently. But the jury appears to be out as to whether the club could accommodate 40,000 fans and parking every day.
Be sure to save some time out of your day to spend an hour or two in the clubhouse bar afterward for lunch and drinks. Not only is the close-up view of the bay spectacular, but there's also plenty of memorabilia to explore inside. The club championship runs as a who's who in Welsh golf, such as Rhys Davies, as well as multiple winner and Ryder Cup Wales Chairman John Jermine.
October 18, 2010
Brandon Tucker is the Managing Editor for Golf Advisor. To date, his golf travels have taken him to over two dozen countries and over 500 golf courses worldwide. While he's played some of the most prestigious courses in the world, Tucker's favorite way to play the game is on a great muni in under three hours. Follow Brandon on Twitter at @BrandonTucker and on Instagram at BrandonTuckerGC.