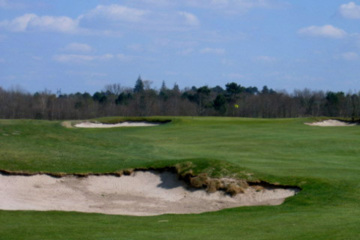 Rough-edged bunkers are a feature on Les Chateaux course at Golf du Medoc. (Clive Agran/WorldGolf.com)
Golf not a passion with the French, but it's growing in Bordeaux's wine country

By Clive Agran,
Contributor
With resorts that cater to both golfers and wine lovers - such as Golf du Medoc and Chateau des Vigiers - golf in Bordeaux, France is on the upswing.
The French are passionate about quite a few things: food, for example, and, quite often, each other. Then there's cycling; liberte, egalite and fraternite; farmers' rights, the French language, boules and, possibly their greatest passion of all, wine.
All of these matter enormously, are perceived as fundamental to the French way of life and are things for which every red-blooded Frenchman is prepared to lay down his life. Although they are developing a definite fondness for it, golf can not yet be considered one of their passions, partly because it is still regarded as something of an Anglo-Saxon import.�
Le golf has therefore established itself best in areas where the English influence has been most pronounced; principally along the Channel coast where contemporary invaders in the form of handicap golfers wielding titanium heads, forged irons and graphite shafts have replaced their less welcome predecessors who similarly wreaked havoc but with swords, axes and arrows.
Golf in Bordeaux, France
The English influence, however, is not confined to the North. The area around Bordeaux on the Atlantic coast has strong historical links with England, which originated in the 12th�century when Henry II married Alienor d'Aquitaine.
Thus Aquitaine became English territory, and most of the Bordeaux wine was shipped over the Channel where it was - and still is - called claret. Everywhere else in the world, it's simply known as Bordeaux. Thus, no one other than the British Open champion could reasonably be expected to be presented with a claret jug.��
A more relevant link between Britain and the development of golf around Bordeaux is the considerable number of Brits working in the wine industry whose lives have been made merrier both by the wine and the golf.�
Golf courses, however, require large chunks of land, and with nearly 300,000 acres under vines - making it the second largest wine-growing area in the world behind Languedoc - there's not a great deal of room around Bordeaux for much else.
The soil, which is chalky on a predominantly limestone base, is one of the two key ingredients responsible for the area's successful wine making. The other is the climate, which is warm but not, thanks to the cooling breezes off the Atlantic, excessively hot. As the temperature rises inland, both the quality and value of the wine falls.�
Just a 15-minute drive from the airport, a little to the north of the city, lies a significant strip of sandy heathland that would make a wine man weep but would bring tears of joy to the eyes of a golf course architect. Like the prime golf country in Surrey, England, and Pinehurst, N.C., the springy turf drains beautifully, and the soil supports pine trees, gorse and heather.�
Bill Coore and Golf du Medoc
American Bill Coore, a native of North Carolina, must have felt right at home when he was asked to design the Chateau course at Golf du Medoc here just over 20 years ago. Although it would be hard to go wrong, he has produced a glorious challenge.
At nearly 7,000 yards off the back tees, it both tests the best and is enjoyed by recreational golfers who appreciate the openness. Balls are rarely lost, except in the occasional water hazard.��
Denied dramatic drops or punishing ascents by the lack of significant elevation, the layout relies on the simple beauty of the rugged heathland landscape, which is accentuated by the wild-looking, rough-edged bunkers. The venue of numerous professional tournaments, Golf du Medoc's Chateau course hosted the French Open in 1999, which was won by Retief Goosen. Today it's part of the beautiful Golf du Medoc resort, the motif of which is a bunch of 18 grapes with a flag in the center.
Perhaps there should be 36 grapes, because there is another quality course here, the Vines. In no way inferior to its illustrious neighbor, there are many who prefer its more intimate feel. Although trees provide slightly more protection from the incessant Atlantic breezes, wind is still a critical factor that adds considerably to the overall challenge.
At the center of the magnificent resort lies an extremely comfortable modern hotel - which, with a "Golfic Corner" in every room into which you can stuff your clubs and clobber - unashamedly caters specifically for golfers. Even the masseuses in the spa are thoroughly familiar with the traditional golfers' aches and niggles.
For more information, see www.hotelgolfdumedoc.com.
Wine and golf at Chateau des Vigiers
For a contrasting golfing experience, drive southeast for a little over an hour through the serried ranks of vines that dominate the landscape and visit the spectacular Chateau des Vigiers, near the historic town of Bergerac.
On the way, be sure to drop in on at least a couple of the many hundreds of chateaux keen for you to sample their wine. Be warned, however, the tasting process, with its strict order and rituals, is every bit as fraught as a 180-yard carry off the tee.�
Perhaps the only criticism that could be leveled at the fabulous Chateau des Vigiers perched high on a hill is that, in many ways, it rather overshadows the surrounding golf course. With parts dating pack to the 12th century, it comes complete with a fascinating history, stunning bedrooms, underground tunnels, period pigeonnaire and a resident ghost.
By all accounts, it was in a pretty dreadful state when Swedish businessman Lars Petersson stumbled upon it in 1989. A graduate of Harvard Business School, his well developed commercial instincts suggested a great opportunity for an upmarket leisure resort lay beneath the dust and debris.
As for the golf, Donald Steel designed the first two of the three nines - Les Vignes and Le Lac - which were opened a year ahead of the hotel in 1992. The final nine, La Vallee, came into play last year.
Blessed with plenty of hills, valleys and delightful views, the holes slice through a huge plum orchard, which is a mass of white blossom in spring, weave around a wood and then finish in spectacular fashion alongside a lake in front of the chateau. With little in the way of punishing rough, it's a perfect resort course that will flatter more than frighten.
Despite the occasional climb, all three nines are eminently walkable. Indeed, walking helps create the thirst that the Chateau's own wine will help slake when the round is over. Incidentally, the locals say a glass (or two) of wine before teeing off is good for your golf. But, there again, they do produce somewhere between 700,000,000 and 900,000,000 bottles a year and are obviously keen to see that it all gets drunk.
For more information, see www.vigiers.com.
April 6, 2009
Although in his 60s, with a handicap of 15 and lifetime earnings comfortably below $100, Clive Agran nevertheless still believes he can win a major. Arguably England's most gifted golf writer, when not dreaming of glory he's scouring the globe simultaneously searching for lost balls and great golf courses. Follow Clive on Twitter at @cliveagran.