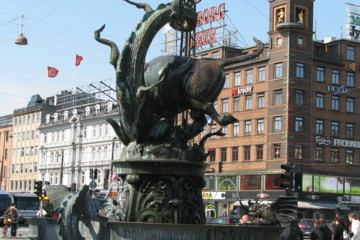 Copenhagen is known for its beautiful architecture, and relative lack of skyscrapers. (Tim McDonald/WorldGolf.com)
Copenhagen makes a Denmark golf trip worthwhile

By Tim McDonald,
Contributor
Copenhagen is one of the most impressive cities in Europe, with charm, history, fabulous architecture as well as more than 30 golf courses nearby.
COPENHAGEN, Denmark - The best thing about a golf trip to Denmark is Copenhagen.
In fact, a golf trip in and of itself to Denmark would not be worth it if it weren't for the truly wonderful Scandinavian capital.
There are more than 30 golf courses in the greater Copenhagen area, many of them pay and play.
Denmark isn't as crazy about golf as its bigger neighbor to the north, Sweden, and its courses aren't as evolved. But Denmark has something Sweden does not: Copenhagen.
For an American, the most astonishing thing about Copenhagen, at least initially, is the number of bicycles careening down urban streets. There are more bicycles than cars, and every imaginable type of person rides them: men and women on their way to work and teenagers, parents and their children riding for the sheer joy of it.
Public bicycles are available. You just plunk down a 20 kroner deposit and get it back when you return the bike.
The next obvious charm of the city is its skyscrapers. There aren't any. Well, technically, there is one, and several more are planned, but Copenhagen is still essentially a "low" city, with mammoth old Medieval buildings just dripping with history. The city is clean, but looks its age - more than 1,000 years, with its cobbled squares and copper spires.
The shopping is great, of course, and there are a ton of excellent restaurants and a bevy of things to do when you aren't playing golf. Copenhagen takes its culture seriously, with some world-famous museums, like the Arken Museum of Modern Art, Frederiksborg Slot and the Statens Museum for Kunst. There is also Amalienborg Palace, home of the Danish royal family, and tours of the Carlsberg Brewery.
For the kids - and the adults - Tivoli Gardens is a must see, especially if you're big into flowers and thrill rides. The peaceful park, in the middle of busy city streets, is a conglomeration of tulips, roses, water features and thrill rides. The park usually has ongoing theatre performances and musical acts.
The kids will also like The Little Mermaid, one of the most famous and photographed statues.
Copenhagen is located on parts of two islands and sandy beaches are within easy bicycling distance, including Amager Strandpark, a two-kilometer long man-made island.
Oh, and you probably know Amsterdam has supplanted Copenhagen as the most erotic city in Europe, but don't miss the Museum Erotica. It's just off Stroget, Copenhagen's main shopping street.
Copenhagen is one of the great European cities and annually makes "most livable city" lists. It is a wealthy city, but be aware it can also be expensive.
The population of the greater Copenhagen area is nearly 2 million people, and with the Oresund bridge linking it to Malmo Sweden, that population swells considerably.
It's an eclectic mix, producing world-famous people as different as Hans Christian Anderson and the existential philosopher Soren Kierkegaard, as well as a disproportionate number of heavy metal rockers.
So, if you can do all this and still find time to golf, here are some suggestions of golf courses near the fascinating city. Most offer rental clubs.
• The Royal Copenhagen Golf Club is in the middle of Dyrehaven, one of the country's prettiest natural areas. It was here that King Frederik III in 1669 decided he wanted his own hunting grounds, and so he herded in thousands of deer and fenced off the area. Hence, the name Dyrehaven, which means "deer park" or "deer garden."
The king built a castle, called Eremitage, on one of the highest areas around, overlooking the plain where the deer graze. He and his ancestors used the area for a royal hunting ground for the next 100 years until it was opened to the public in 1756.
The crown prince and princess are members here, though you're unlikely to see them hacking their way around; the castle remains empty most of the time. What you will see, however, are deer. Everywhere. These aren't the small, delicate white-tailed deer so prevalent in many parts of the U.S. These are big, ruddy, Danish deer, the size of bull elk.
It's a fairly straightforward golf course, playing over mildly rolling terrain with few forced carries - other than the deer - and only a couple of blind landing areas. There are also only a handful of bunkers, with brown sand that had to be carried in from outside so as not to disturb the park's natural setting.
• The Copenhagen Indoor Golf Center is about a 10-minute drive from downtown. It's 12,000 square yards and has a 142-yard, three-story driving range, 27-hole putting green and two golf simulators. It's used by the Danish national team.
• Simons Golf Club is located in the town of Humlebaek, about 20 miles north of Copenhagen, the terminus of the coastal area popularly known as the Whiskey Trail.
Simons is one of the most expensive clubs in Denmark, and consequently has quite a few wealthy businessmen as members. You have to be a member to play here, as is the case through much of Europe, but don't worry about it if you're an American. You can get on easily.
It's a very green course with some nice, moderate elevation changes over gently rolling terrain. It's a little inland, but you can still see Sweden across the narrow Oresund Strait from some of the higher spots.
• Ledreborg Palace is a design of Nick Faldo's and one of Denmark's most picturesque courses. It's a links-like layout. Opened in 2007, Ledreborg is about a 35-minute drive from Copenhagen.
• Smorum Golf Center is a 27-hole, pay and play facility with a driving range, putting green and practice course.
• Frederikssund Golf Club is an 18-hole course on slightly undulating terrain near a forest overlooking Roskilde Fjord. There is also a nine-hole, par-3 course.
• Ishoj Golf Center is about 16 miles from the city. The course offers a "split-level terrain," prompting officials to describe the course as "a design resembling a miniature Grand Canyon."
It's a 27-hole facility, nine of which are pay and play, with four putting greens and a partly-covered driving range.
May 22, 2008
Veteran golf writer Tim McDonald keeps one eye on the PGA Tour and another watching golf vacation hotspots and letting travelers in on the best place to vacation.