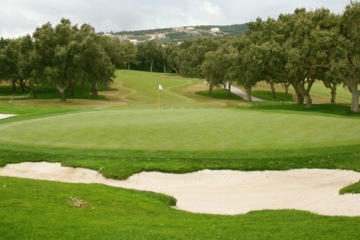 With a little savvy, it's possible for tourists to play Spain's prestigious Valderrama Golf Club on the Costa Del Sol. (Brandon Tucker/WorldGolf.com)
Spain Golf Vacation FAQ: Costa Del Sol golf, travel

By Brandon Tucker,
Managing Editor
Spain's Costa Del Sol, which translates as "coast of the sun" or "sun coast," is a stretch of about 150 kilometers made up of the Malaga Province in the country's southern Autonomous Region of Andalucia between Costa de la Luz and Costa Tropical (which are sometimes included within the Costa Del Sol, as well).
The largest city of the Costa Del Sol is Malaga, while its top golf and resort communities are Marbella Golf & Country Club, Sotogrande Golf Club and San Roque Golf Club, each located in Malaga province.
FAQ: What is Costa Del Sol golf like?
Bountiful and scenic for a variety of price ranges, there are more than 130 golf courses in Andalucia, and many of them are on the Costa Del Sol and are set amidst the rugged hillsides and mountains overlooking the Mediterranean Sea.
Some golf courses are unremarkable, the centerpiece of real estate developments over the last boom. Others are exceptional resort courses such as Finca Cortesin Golf Club, Almenara Golf Course and the new La Reserva Club de Golf. Valderrama Golf Club is a private members course but allows limited public play.
There is a wide range of grass types here, varying from bentgrass and rye to bermuda grass fairways.
FAQ: Can I get a tee time at Valderrama?
Valderrama may be considered the "Augusta National of Europe," but it does offer limited tee times between noon and 2 p.m. However, be sure to book at least 90 days in advance, and you will be asked to provide home golf club and handicap info.
FAQ: Are rental golf clubs available?
Most offer rental clubs but can be a bit pricey, between €30-60 per set for the day.
FAQ: How can I get around in the Costa Del Sol?
There is no train system to speak of along the coastline, so most groups here have a car hire or a coach. The motorways are well-planned and easy to get the hang of. The main road you'll be using during your trip here is the A7, which heads along the coastline. (You can also take the AP7 toll road, that costs between €1-3 at each checkpoint.)
FAQ: What is the weather like in Costa Del Sol?
As the name implies, sunshine is plentiful here (about 300 days a year). Winter temperatures have an average high of 16-19 degrees Celsius, while the summer month highs in July and August are 29 degrees Celsius.
Golf courses are open year round, but the peak golf season is from mid-March through May and October through November.
FAQ: Do I have to know Spanish?
The Costa Del Sol is quite tourist heavy, so most tourist spots have plenty of English-speaking staff. If you're staying in Marbella or in Malaga, you won't need much Spanish to get by anywhere. At the golf clubs, just about all the employees speak at least serviceable English.
FAQ: Where can you find the best nightlife?
In the summer time, head down to Marbella's coastline and the Puerto Banus district where there are a slew of bars and clubs all along the water. Malaga, of course, also has its share of bars. If you're looking for something a little quieter, Sotogrande has a string of shops and restaurants along its marina but without the public displays of intox.
FAQ: Is Costa Del Sol golf expensive?
There is a pretty good range of courses here, from Valderrama Golf Club (€300) down to courses that only charge about €40-60 (buggies are usually not included in the green fee cost).
FAQ: What else is there to do in Costa Del Sol?
The beauty of a Spain golf trip is all the stuff to do before and after golf, from visiting historic sites to exceptional wining and dining in tapas bars - or just hit the beach or go sailing. Many of Spain's historical sites in Ronda, Cadiz or Grenada (including Alhambra) are an hour or two away by car.
FAQ: What's the best way to get to the Costa Del Sol by air?
Most international flights from Spain's national carrier, Iberia Airlines, will likely fly into Madrid (MAD), and from there you can connect to Malaga (AGP).
If you're going to be on the western side of the Costa Del Sol, you can fly in/out of Seville (SVQ). The large city of Grenada (GND) is also about an hour's drive north from Malaga.
Delta Airlines also has non-stop service from JFK Airport in New York City four times a week to Malaga.
You can find more information on golf in Spain and the Costa Del Sol by visiting their respective tourist board Web sites: www.VisitCostaDelSol.com and www.Spain.info.
March 31, 2009
Brandon Tucker is the Managing Editor for Golf Advisor. To date, his golf travels have taken him to over two dozen countries and over 500 golf courses worldwide. While he's played some of the most prestigious courses in the world, Tucker's favorite way to play the game is on a great muni in under three hours. Follow Brandon on Twitter at @BrandonTucker and on Instagram at BrandonTuckerGC.