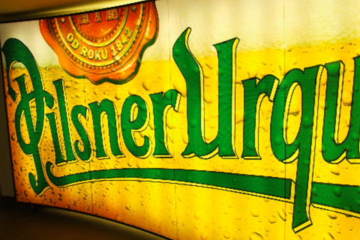 Coming off a golf course in the Czech Republic, a cold Pilsner Urquell is just the ticket. (Brandon Tucker/TravelGolf)
A golfer's guide to ordering beer in the Czech Republic

By Brandon Tucker,
Managing Editor
Brandon Tucker has golfed on top golf courses near Prague and around the Czech Republic. Like most golfers, he comes off 18 with a healthy thirst. Beer, specifically Pilsner Urquell and Gambrinus, are ubiquitous here. He offers some tips for first-timers.
It doesn't take a visitor long to realize that the Czech Republic is fueled by pivo (beer), and nowhere more so than Plzen. Just about every pub in town offers the famous local brewery's products exclusively - always Pilsner Urquell, sometimes accompanied by its sister brand, Gambrinus. You won't find pubs boasting a wide selection of taps, as in the States.
Pilsner Urquell and Gambrinus differ in taste and strength. Lighter in color and less bitter, Gambrinus measures 10 degrees on the Balling scale used for Czech beers, Urquell a 12. The figure represents the percentage of fermentable sugar in the brew, not the alcohol content per se, but the more degrees, the stronger the beer.
The pubs know what you're there for; often the bartender is pulling the tap as you step foot in the place. Just grab a seat, lay a coaster on the table and signal your order -- a thumb up for one beer, thumb and forefinger for two, etc. Along with your beers, the barkeep will bring a slip of paper on which he or she keeps track of your order; don't write on it, and don't lose it.
All that's left is to lift your glasses and offer a hearty Czech toast: Na zdravi!
March 16, 2007
Brandon Tucker is the Managing Editor for Golf Advisor. To date, his golf travels have taken him to over two dozen countries and over 500 golf courses worldwide. While he's played some of the most prestigious courses in the world, Tucker's favorite way to play the game is on a great muni in under three hours. Follow Brandon on Twitter at @BrandonTucker and on Instagram at BrandonTuckerGC.