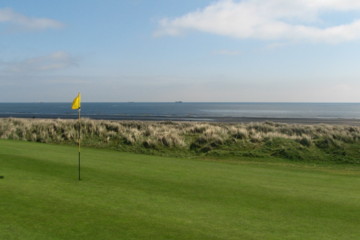 Laytown and Bettystown Golf Links is a great, affordable Irish links course. (GolfPublisher.com)
Play some of Ireland's best golf courses without emptying your wallet

By Tim McDonald,
Contributor
DUBLIN, Ireland - Ireland might not be the ultimate destination for those looking to experience true links golf - Scotland retains that honor - but it does have 30 percent of the world's links courses.
With its plethora of courses and lower costs (a euro vacation is still cheaper than one calculated in pounds), the Emerald Isle has been luring traveling golfers away from Scotland in recent years. Ireland is still cheaper, but things are changing.
Playing famed links courses such as Ballybunion and Portmarnock or a top parkland course like 2006 Ryder Cup host the K Club will set you back.
But if you've already paid (literally) homage to Ireland's big-name courses, or simply want to tour the tracks without breaking the bank, there are options, and terrific ones.
For one thing, skip the resorts and stay at some of Ireland's cozy bed-and-breakfasts. For another, there are plenty of hidden, reasonably priced gems among the island's 400-odd courses. You're not likely to find the courses listed below in any of the major packages, but you'll still see plenty of beautiful country and get in some great golf.
• Woodenbridge Golf Club is nestled in the Vale of Avoca, considered by many the garden spot of Ireland. When Dubliners want to escape the city and soak in the scenery, this is where they head.
The course is set in an amphitheater of sorts, ringed with green-tinted hills and the high, dark, forested banks of a fine estate, from which one can sometimes hear the gunfire of the landed gentry hunting pheasant. Those pheasant that don't end up on the dinner table under glass can be seen walking the fairways.
Woodenbridge is dissected by two rivers, the Avonmore and the Aughrim. Narrow offshoot streams gather into ponds where wild duck join the pheasant. Water comes into play on 10 of the 18 holes but forces only one carry off the tee, on the par-5 18th. The fairways throughout are lined with the assorted colors of Irish flora, with the blooming yellow gorse flowers predominating. It's like the fantasy Irish landscape in American visitors' heads come to life.
• The beauty of Ireland never lets on at Powerscourt Golf Club in Enniskerry, just south of Dublin. This is why you came here to play. Powerscourt is set in a rolling valley; each hole casts a different look at Ireland's green hills, and some offer glimpses of the Irish Sea. The view at No. 17, teeing off downhill with Sugarloaf Mountain rising all green and Irish in the background, is nothing short of spectacular.
It's a fairly open course, but some high-banked mounds are thickly treed with evergreen and leafless, ethereal-looking fir, creating an ominous darkness just yards from the bright green of the fairways. Out-of-bounds markers are several yards deep in the forest, if you dare.
But don't let the beauty carry you away; Powerscourt is as intense as it is scenic. The east course is a brawny, rolling track laid out long and with guile. The fairways roll and buck, and there are plenty of blind spots and doglegs to negotiate.
• Laytown and Bettystown Golf Links offers a great Irish links-course experience without the high cost. Located right outside Droghedah in the little town of Bettystown, this is a true links course, hard by - and sometimes almost in - the Irish sea.
The front nine plays up and down through grass-covered sand dunes rising to 30 feet high, and woe to the hacker who's off line with his driver, or even his approach; there are valleys - nay, canyons - behind those dunes, in which your golf ball will remain forever in Ireland. You'll need to be a contortionist to pull off some errant approach shots.
Even for hardened links veterans, this is a good play. The course follows the natural contours of the excellent terrain, and the greens are in very good condition. There is also a friendly little clubhouse, bar and restaurant with views of the course. Green fees are 60 euros weekdays and 75 weekends.
• If you want to see Ireland, play Mt. Temple Golf Club is a very Irish course right in the heart of Ireland. The course is in view of the 30-foot spiral that marks the dead center of the island. On a clear day, the view from the course high plateaus can stretch 100 miles.
It may not have the immaculate conditioning or fancy clubhouses of the big boys, but this County Westmeath track can be a bear when the wind blows, which it often does so high up. There are blind shots, tough par 3s, long par 4s that are difficult to reach and par 5s that will test the outer limits of your machismo. The course plays up and down a mountain, with bending, twisting fairways and several elevated greens - strike it well or your ball will re-introduce itself to you.
It's a shame more Americans don't experience Mt. Temple. It's set in the little village of the same name, equidistant from Athlone and Moate. It's a friendly, family-run course where there's always some sort of competition going on and everyone seems to be enjoying themselves.
Plus it's a great bargain. Green fees start at 30 euros, and for parties of four or more they'll pick you up at either the Dublin or Shannon airports and drop you off at the first tee - no need to drive the narrow, Irish roads.
• As highly marketed as it is, PGA National Ireland in Johnstown can't really be called a hidden gem, but this new Christy O'Connor Jr. design is already winning comparisons to more established courses.
"A lot of the professionals who played it last year say it's better than the K Club," local Eamon McGlinchy said. "And they're right."
O'Connor laced PGA National with American touches, like 40 acres of water of lakes and ponds (most dug with what the Irish call a "big scraper") that frequently come into play. All the lengths are measured in yards, not meters.
One distinctly non-American feature is the surrounding area, which sports nary a house or condo, only an old manor that was the home of the former owners, who ran a stud farm here. All around the course are vast, open fields and pastures roamed by sheep and horses, including some Clydesdales.
• Also no longer quite so hidden, Tralee Golf Club in County Kerry is being discovered by more and more visitors eager to tackle Arnold Palmer's first European design.
"The natural links land here not only provides all the ingredients of links golf - hard, fescue greens, undulating fairways and punishing rough - but also some of the perks of the volcanic Ireland geography, including towering dunes and spectacular cliff-side ocean views," TravelGolf's Kiel Christiansen wrote in his review of the course. "In fact, more than one golf writer has been inspired sufficiently by Tralee to compare it favorably with Pebble Beach."
June 4, 2006
Veteran golf writer Tim McDonald keeps one eye on the PGA Tour and another watching golf vacation hotspots and letting travelers in on the best place to vacation.