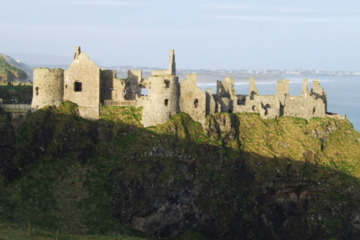 The stunning Dunluce Castle ruins are just minutes from the Royal Portrush Golf Club. (Brandon Tucker/GolfPublisher.com)
N. Ireland's Causeway Coastal Route: There's more to see than Royal County Down, Portrush

By Brandon Tucker,
Managing Editor
PORTRUSH, Northern Ireland - The scenic A2 Causeway Coastal Route in Northern Ireland is home to 30 golf courses, not to mention scenic glens, natural wonders, ruins of castles and charming Irish villages.
Mixed with fantastic golf courses from Royal County Down to Royal Portrush, this is a blend of golf and off-course sights that cannot be missed.
The best way to take it all in is to start in Newcastle at Royal County Down or nearby hidden gem Ardglass Golf Club. From here, set aside half a day or a full day to drive along the coastline at a leisurely pace to Portrush.
This stretch features some of the finest sights you'll find in the isles. Some are famous; some aren't even marked. There's enough variety to stimulate your senses at every turn.
From castle ruins to whiskey distilleries, here's what you don't want to miss on Northern Ireland's scenic Causeway Coast.
Causeway Coast: Sights to see
Giant's Causeway - A most unusual natural phenomenon, Giant's Causeway is Northern Ireland's most visited tourist attraction. It's a collection of around 40,000 six-sided basalt columns on the coastline. The formation was a result of a volcanic eruption and was discovered in 1693. Irish legend states the stones were used for giant Finn McCool to walk to Scotland to fight his rival Benandonner. This was rated the United Kingdom's fourth best natural wonder. Be sure to look for the "Organ" and the "Giant's Boot." Guided tours, which have won the "Best Tour Visit" award from CIE International, are available as well.
Carrick-a-rede rope bridge - Not for the squeamish, the wobbly Carrick-a-rede rope bridge is 20 meters long and teeters over a 30-meter chasm connecting the mainland with Carrick Island. The bridge was originally built by fishermen to allow them to check their salmon nets. Today, it's since been reinforced enough for visitors - more than 140,000 last year alone - to tread across. It's perfectly safe and family-friendly, and there are other ground paths on location as well. Admission to the bridge is £3 for adults. The bridge is open March thru October.
Dunluce Castle - Regarded as one of Ireland's most scenic castles, the Dunluce Castle ruin sits perched on a rocky cliff just outside Portrush and can be seen from the Dunluce links. One night during a party, the kitchen of the castle collapsed into the sea, killing all the cooks and kitchen hands. A dark hollow remains there to this day, and visitors are invited inside to see this extraordinary ruin. Admission is £2. The castle is open year round.
Bushmills Distillery - The world's oldest whiskey distillery, Bushmills is a fine 19th hole located a few minutes east of Portrush. It received its distilling license in 1608 (evidence of distilling in the region dates back to the 13th century) and remains a coveted brand of Irish whiskey to this day. It's the only active distillery in Northern Ireland that offers tours of its current facilities. Tour admission is £5.
Northern Ireland: Where to stay
The Radisson Roe Park resort sits on the western side of Northern Ireland, bordering the northwest in the town of Limavady. It's a four-star retreat with amenities including a new $2 million spa, multiple dining and bar facilities and its own golf course and practice center. This is a good option if you'd like to practice some before beginning your trek around the links courses of the north. It features a driving range, short game area and instruction, including themed group and individual programs. (www.RadissonRoePark.com).
The four-star Slieve Donard sits overlooking Royal County Down in the town of Newcastle. In fact, the course used to sit on this property before the town decided a world-class hotel was needed to house the growing number of visitors coming in off the railway at the turn of the 20th century. Today, the Slieve Donard is a relaxing retreat, home to a spa and six acres of private grounds. (www.HastingsHotels.com).
The Ramada Portrush is a three-star option in the heart of Portrush, the north's most bustling town and features nightlife overlooking the Atlantic Ocean. It is also just minutes from Royal Portrush. It's a modern hotel with 69 guest rooms, all offering contemporary design. It also has ample room for weddings, functions and corporate seminars. The Counties Café & Bar was recently renovated and is open nightly. (www.RamadaPortrush.com).
June 25, 2007
Brandon Tucker is the Managing Editor for Golf Advisor. To date, his golf travels have taken him to over two dozen countries and over 500 golf courses worldwide. While he's played some of the most prestigious courses in the world, Tucker's favorite way to play the game is on a great muni in under three hours. Follow Brandon on Twitter at @BrandonTucker and on Instagram at BrandonTuckerGC.