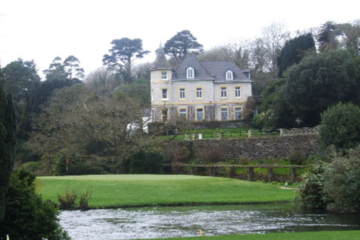 Lisselan Golf Club's eighth hole has it all: beauty, risk and originality. (Brandon Tucker/TravelGolf)
Lisselan Golf Club no ordinary walk in the parkland in County Cork, Ireland

By Brandon Tucker,
Managing Editor
CLONAKILTY, COUNTY CORK, Ireland -- Mention plans to play Lisselan Golf Club to any golfer in the bustling small town of Clonakilty and you'll get more or less the same response.
"Oh, Lisselan," goes the answer, invariably delivered with a smile. "It's different. But it's very beautiful."
Different? "We're extending happy hour tonight" different, or "We've taken your favorite sandwich off the menu" different?
Rest assured, this little parkland course in western County Cork is the good kind of different.
Playing through very scenic Lisselan Estate, with its beautiful 19th-century house and garden, the course debuted with six holes in 1994 and expanded a decade later to nine.
Even doubled up for a full round (different tee boxes lend the back nine some variety) it's a modest 6,376 yards from the back and 5,070 from the ladies' tees. But between some unique touches and one fantastic hole, Lisselan is worth a visit.
The first novelty comes after the first hole, a tiny par 3 with a pond tightly guarding the green. You hop aboard a funicular-type car that, with the push of two buttons, carries you about 100 yards up a steep hill to the second. You encounter another such self-operated conveyance between Nos. 3 and 4.
The fifth is a beautiful downhill par 3 that offers great views of the West Cork hillside. It's only 160 yards, but the green is so small that any wind makes it difficult too hit.
Then there's No. 8/17, which Golf World magazine has called "one of the most beautiful and demanding holes in world golf." That's pushing it a bit, but among bargain parkland courses in the British Isles you'll be hard-pressed to find a better one.
This terrific par 5 has all the elements: risk, reward, beauty, originality. It's a gentle dogleg right over a running stream and bridge to a tightly wooded corridor. From there, it's possible to go for the peninsula green in two.
Possible, but not advisable. Water guards the green, right, front and long. That isn't to say there's room left - there you'll find an old stone corridor through a garden to stately Lisselan House overlooking the green.
Here's the final touch: To get across the river you don't cross a bridge; you take a Huck Finn-style raft. There are some cities in Europe where a funicular and a river ferry ride by themselves will set you back €20-€30. Here you get 18 holes too.
Lisselan Golf Club: The verdict
You don't get world-class golf at Lisselan, but you do get a unique taste of Irish parkland golf, with great scenery and gimmicks you'll eat up. After you play the eighth you won't be able to wait to return to it on the second nine.
Conditions belie the cheap green fees, although like many parkland tracks it can get a little wet after a few days of rain or in the off-season.
April 26, 2007
Brandon Tucker is the Managing Editor for Golf Advisor. To date, his golf travels have taken him to over two dozen countries and over 500 golf courses worldwide. While he's played some of the most prestigious courses in the world, Tucker's favorite way to play the game is on a great muni in under three hours. Follow Brandon on Twitter at @BrandonTucker and on Instagram at BrandonTuckerGC.