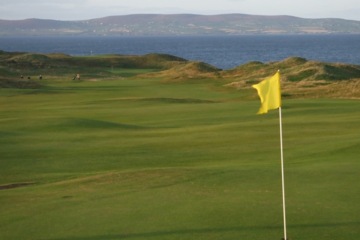 Tralee Golf Club is a century-old club but boasts a new links designed by Arnold Palmer in 1984. (Brandon Tucker/TravelGolf)
Tralee Golf Club in County Kerry: The best Irish links course you've never heard of

By Kiel Christianson,
Senior Writer
BARROW (Co. Kerry), Ireland -- When asked to think of great Irish seaside links courses, most golfers will certainly come up with Ballybunion and Lahinch, two of the oldest on the Emerald Isle. But if you ask golfers who've actually been to Ireland to play and sample the famed links, one of the names you'll certainly hear is one you've likely not heard before: Tralee Golf Club.
Tralee Golf Club, which opened for play in 1984, was Arnold Palmer's first course design in Europe, and by all accounts, firmly established The King outside the United States. Very little earth was moved in the building of Tralee, a fact which is reflected in the course's motto: "Created by God, Designed by Arnold Palmer."
The natural links land here not only provides all the ingredients of links golf - hard, fescue greens, undulating fairways, and punishing rough - but also some of the perks of the volcanic Ireland geography, including towering dunes and spectacular cliffside ocean views. In fact, more than one golf writer has been inspired sufficiently by Tralee to compare it favorably with Pebble Beach.
But in all honesty, Pebble Beach has six memorable holes. Tralee has 18.
How it plays
Tralee Golf Club was cobbled together out of numerous smaller pieces of farmland. According to Manager/Secretary Anthony Byrne, there's really no telling how many "glasses of whisky and handshakes" were involved in acquiring enough real estate for the 6,890-yard, par-72 track. One thing is for certain, however, the natural beauty of the place attracts avid players from around the world, many of whom choose Tralee over older and more famous courses in the area.
"I suppose I'm a little biased, but I think Tralee is the best course in the surrounding area," Byrne said. "Waterville and Ballybunion are gorgeous, but I think Tralee has passed them both."
This is admittedly a grand claim. But given the combination of stunning vistas, outstanding service, and challenging yet fair golf, it may be hard to dispute. Indeed, of the seven people I golfed with in Ireland for a week, Tralee ranked ahead of both the storied Ballybunion and Lahinch in nearly everyone's opinion.
This explains why the membership (approximately 1,200) is essentially closed.
The 596-yard, par-5 second is the first opportunity for first-time visitors to stand in slack-jawed awe, but more will come. This par 5 offers elevated tees perched above a winding, rolling wasteland. If you've hired a caddy -- and you would be smart to -- he will tell you, "Left is right here," because the hole borders the beach-side cliffs all along the right.
The 194-yard, par-3 third is the first of four of the most picturesque par-3s in Ireland. From the tips, you stand looking out over surf crashing against piles of black rocks, toward a green that sits in front of a 16th-century castle gun tower built to protect what was then English land against the marauding Spanish Armada.
In a word, the views from holes 2-7 at Tralee are unsurpassed. Underneath the tees on the 157-yard seventh you'll see the remains of a dock built by wine and brandy smugglers who would ship their goods in under cover of dark from Spain. Yet another good reason to hire a caddy (35 Euros, plus tip) is that they are all members (and thus, owners) of the club and have a wealth of stories and anecdotes that will make your round even more enjoyable.
After gushing over the front nine, the first-time visitor to Tralee may be surprised to hear his caddy say something like, "You haven't seen anything yet. We'll take a five-minute break at the turn and then we'll move on to the best back nine in the world. It's a tall order, but you'll see."
Tall order, indeed. But again, even bald-faced hyperbole fails to seem so outrageous at Tralee. The 458-yard, par-4 12th is possibly the hardest hole I have seen anywhere in the world.
This No. 1-handicap hole looks like something off of one of those fantasy golf calendars, where artists dream up impossible holes. The tee shot must navigate a snaking, meandering fairway and the long-iron approach must find a green that is guarded by certain death in the form of a deep, fescue-filled valley to the left and by chronic disease in the form of fescue-covered hills to the right.
The 199-yard 16th, aptly named Shipwreck, is the last of Tralee's par 3s. One of our group's caddies, Danny (who is the caddie of Tralee), was looping for Michael Jordan in 1999. When the greatest basketball player who ever lived asked Danny if he could reach the green with a 5-iron, Danny replied, "You can if you hit it twice." Jordan then proceeded to stick the green with a 2-iron.
Tralee Golf Club: The verdict
Jordan isn't the only golf-crazed American celeb to "discover" Tralee. Recent visitors include a threesome of Dan Marino, Wayne Huizinga and Boomer Esiason. Although the course is privately owned by the members, it retains all of the rich Irish golfing tradition of more historic courses and the design and especially the service appeal to American sensibilities.
Upon checking in, golfers are presented with a generous gift of bag tag, ball markers, divot tool and cap clip. The views of Fenit Island and the Kerry Coast out the dining room windows in the clubhouse are priceless and the seafood salad packed full with the local daily catch (15.50 Euros) is delicious.
Most importantly of all, the golf is superb. The best advice is simply not to squander the occasion. As my caddy, Jerry O'Regan explained, "Golfers spend thousands of bucks to travel around the world and they go out without a caddy to save a few bucks. Can you imagine being out there alone today? Can you think of a stupider thing to do?"
O'Regan is right: There are numerous blind shots, a half-dozen sightlines off the tees that appear to be different than they are and more than one green that breaks uphill or away from the ocean, contradicting everything your eye and good sense dictate. And as badly as you may shoot here the first time, you are guaranteed to shoot worse without a caddie.
Byrne points out that over the past four years, the club has put 4.5 million Euros into minor tweaks and redesigns. The once-anti-climactic 18th has just this year been extended from a dull par 4 into a far more challenging par 5, with 13 new fairway bunkers to force length and precision off the tee.
One weakness is the lack of a proper practice facility, although the hope is that eventually a few more bottles of whisky and firm handshakes will result in the acquisition of two or three adjoining farms and subsequent expansion.
Stay and play
You can't swing a dead leprechaun in Ireland without hitting a B&B or inn, as tourism is now the nation's No. 1 industry. But the closest and most unique to the golf club is Barrow House (353-66-7136437), which was once the residence of the Knight of Kerry.
Built in 1723 and fully resorted six years ago, the inn has 16 rooms, all with bathrooms "en suite," and offers serene views of the Barrow Harbor. Rates range from 64 to 125 Euro per person per night and include a full Irish breakfast. About 70 percent of the guests here are golfers, so they know exactly how to facilitate golf trips.
Dining out
Aside from Tralee Golf Club's exceptional clubhouse, there are two restaurants of note in the immediate vicinity.
One is the Oyster Tavern Restaurant (066-7136102). The atmosphere is relaxed, and entrees range from 16 to 27 Euros. Avoid the Fenit salmon, even though it's local and fresh, unless you like small, bony portions. The best bets are the stuffed pork loin and the enormous helpings of fish and chips.
The other is The Tankard (006-7136164). Another informal local favorite, entrees here run 17 to 33 Euros. The mussels are fantastic, as is the locally caught Atlantic monkfish. The service is neither speedy nor friendly, but the view of the Bay of Tralee is calming.
Fast fact
The oldest castle ruins on the course date back to the Norman Invasion of Ireland, in the 1200s. And if you ask in town for the course, keep in mind that many locals call it "Barrow," rather than "Tralee."
October 28, 2005
Kiel Christianson has lived, worked, traveled and golfed extensively on three continents. As senior writer and equipment editor for WorldGolf.com, he has reviewed courses, resorts, and golf academies from California to Ireland, including his home course, Lake of the Woods G.C. in Mahomet, Ill. Read his golf blog here and follow him on Twitter @GolfWriterKiel.