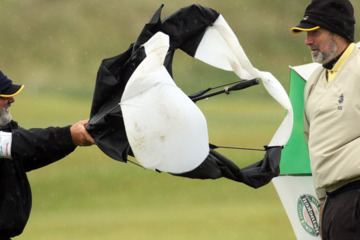 Ireland's golf links are often windy enough to render umbrellas useless, so leave them at home. (Ross Kinnaird/Getty Images)
Golf vacation planning: How to pack for a trip to Ireland

By Brandon Tucker,
Managing Editor
Packing for a golf trip overseas to play the golf courses in Ireland is both a science and a guessing game.
For starters, you don't want to pack too heavy, especially if you're self-driving during your golf tour. Mid-size rentals in Great Britain and Ireland don't mean the same thing as in America.
But you also need to pack for the unexpected: namely, Irish weather. Ireland has a reputation of being rainy, but you could very well catch a week full of sunshine that calls for Bermuda shorts and shades.
Or you might not see the sun for days.
So try not to pack any duplicate items. Versatility is the key. Here's a primer of what to bring for that Irish golf vacation experience.
Passport: Just because you have an Irish last name, it doesn't mean you're getting through E.U. immigration without one.
Golf balls: Bring plenty of your own unless you want to pay a heavy price for balls at the golf clubs in Ireland (sure, they're logo balls, but you're going to lose them in the fescue anyways). Otherwise, you'll be playing the cheap Donnay-brand balls you find around the course, which aren't much of a step up from beating a hard-boiled egg around the links.
Shoes: If you plan on a lot of 36-hole days, and you have the space in your golf bag, bring two pairs of golf shoes. This is helpful in case one pair gets wet in the morning or if you need to relieve certain pressure points at the bottom of your feet. And there's no such thing as bringing too many good pairs of socks.
Waterproofs: Be sure to keep a lightweight waterproof jacket and pants handy in your golf bag. Bad weather often passes quickly in Ireland if it's breezy enough, so you're better off playing in a downpour for a few holes than trudging in off the course. A pair of rain gloves are definitely worth keeping in your bag, too.
As for umbrellas, when it's raining, it's usually windy enough on the links to render umbrellas useless. The better hotels and B&Bs have umbrellas handy if you're heading into town.
Layers: You'll experience four seasons worth of golf in one round in Ireland. You're best off bringing layers: Mesh turtlenecks and wool sweater vests can be very versatile. Also, keep a wool hat in your bag in case you're playing in the evening and the sun is starting to set. It can get cold in a hurry.
Carry bag: Leave the bulky staff bag at home. You're going to be walking every round in Ireland. If you don't have a light carry bag, looks like you're going to be tipping a caddie extra.
Handicap certificate: Most Ireland clubs aren't as strict about this as Scotland and England, but if you have one, it's always good to keep it handy when traveling to the U.K. and Europe to play golf.
And perhaps most importantly, leave a little extra room in your bag. You're going to want to pick up trinkets, like a souvenir Frog polo from Dooks Golf Club or a special pint of Jameson Reserve whiskey only sold in Ireland.
October 22, 2009
Brandon Tucker is the Managing Editor for Golf Advisor. To date, his golf travels have taken him to over two dozen countries and over 500 golf courses worldwide. While he's played some of the most prestigious courses in the world, Tucker's favorite way to play the game is on a great muni in under three hours. Follow Brandon on Twitter at @BrandonTucker and on Instagram at BrandonTuckerGC.