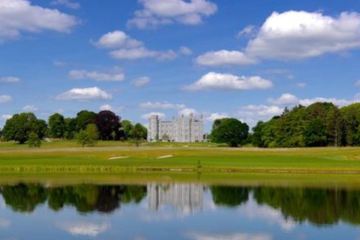 Fanning out from Killeen Castle, the Jack Nicklaus design is an interesting combo of links and parkland golf. (Courtesy of Killeen Castle G.C.)
Golf at Killeen Castle in Ireland: A worthy home for the 2011 Solheim Cup

By Katharine Dyson,
Special Contributor
DUNSANY, County Meath, Ireland -- Just northwest of Dublin, Ireland, the golf course at Killeen Castle is a fitting venue for the 2011 Solheim Cup, which takes place Sept. 23-25.
The battle between the U.S. and Europe, the ladies' answer to the Ryder Cup, will be held on the newly minted course surrounding the imposing castle. James Bond fans may recall it was used in scenes for the 1966 movie, "Casino Royale."
Just a half-hour drive outside the city, and with the flags flying over turrets and massive crenellated walls, the 12th-century Norman castle, golf course and gardens sprawl over more than 600 acres of meadows and woodlands.
Fanning out from the castle, the Jack Nicklaus Signature Course is an interesting combo of links meets parkland with thick grasses, subtle greens and tough bunkers. How tough? I watched Lisa Maguire, one of Ireland's 15-year-old wonder pros, take two to get out of a deep bunker on the first day of the 2010 Irish Open, the first big tournament to take place on the new track.
Killeen Castle, which measures 7,677 yards, plays over a generous 350-acre landscape of gently rolling terrain. The layout is pretty open, the fairways defined mainly by grasses accented by handcrafted stonework from rock quarried on site.
Nicklaus used a unique blend of grasses similar to what he used at his course in Muirfield, Ohio. Mature trees have been left, while new trees (mostly native oaks, ash and beech), grasses and shrubbery have been planted. The castle is hardly ever out of sight, with views especially dramatic coming up the fairways on the 11th and 18th holes.
In redesigning the old course, which once served visitors to the estate, Nicklaus worked around several major historic sites discovered during careful archeological excavations that were completed before construction on the course was allowed to start. Protected sites date from the Neolithic/early Bronze Age to Anglo-Norman and Medieval periods, including some of the ancient roads. Of special note is the 15th-century Cruise-Plunkett wayside cross that overlooks the first and 18th fairways.
Seven small lakes (actually more like ponds) come into play on nine holes, including along the left side of the second and seventh fairways. Water carries are required on Nos. 16-18. One of the more interesting holes is No. 7, which is shaped like a huge question mark with a green tucked behind water.
Nicklaus does not disappoint, giving generous landing areas for drives followed by more tricky shots on the approaches. For example, the first hole sets off gently with the fairway rolling between bunkers right and left to a huge green, but the approach requires careful navigation to avoid a front-left bunker. The 10th hole also features a narrow opening to the green.
Among the more challenging aspects of the course are the undulating, slippery greens. More than one pro in the Irish Open, including Suzann Pettersen, missed by a hair on what looked like easy 2-footers.
When Solheim Cup players come to Killeen Castle, they will be able to enjoy the amenities of a five-star hotel that is emerging from the ruins of the former castle with a rich history. Killeen Castle was built by Hugh de Lacy in 1181 and has served as home to earls and stud farm. In 1981 it was maliciously set on fire and received extensive damage. Sold in 1995, restoration began in 2005. Renovations are expected to be completed in time for the tournament.
On site there is the Dave Pelz Scoring School, a new 30,000-square-foot clubhouse and a golf academy. There are more than 150 new lodges, houses and courtyards located throughout the property.
Killeen Castle: The verdict
History is interwoven in the golf experience at Killeen Castle with the gray stone walls ever present. The rolling landscape works as a fitting canvas for Nicklaus, who continues to present wide fairways and then pulls the target in closer for the second shot, with grasses, bunkers and water. Unlike some new courses on old lands, this one has succeeded in evoking a sense you are indeed playing golf in Ireland. It's a solid layout well worth playing.
May 24, 2011
Katharine Dyson is a golf and travel writer for several national publications as well as guidebook author and radio commentator. Her journeys have taken her around the world playing courses and finding unique places to stay. She is a member of the Golf Writers Association of America, Metropolitan Golf Writers of America; Golf Travel Writers Organization and Society of American Travel Writers. Follow Katharine on Twitter at @kathiegolf.