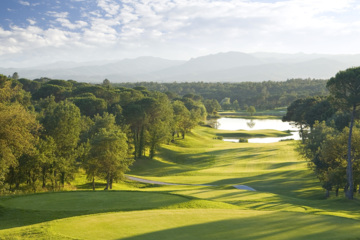 Fabulous views and wonderful greens are trademarks of PGA Catalunya's Stadium Course. (Photo courtesy of PGA Catalunya)
Stadium Course at PGA Catalunya Resort: A golf jewel in Spain's Costa Brava crown

By Clive Agran,
Contributor
The Costa Brava region in Spain is often overlooked, as is its excellent golf. Chief among its courses it the stellar Stadium at PGA Catalunya, a shining jewel in the region's crown.
GERONA, Spain -- This is a huge country, and it is a common mistake to perceive it as one homogeneous mass. Within its frontiers are a great many distinct and different regions.
Most golfers are familiar with the Costa del Sol, but not so many have sampled the delights of the Costa Brava, which is a shame because it's much less crowded, considerably cheaper and far friendlier. Even the more-temperate climate is better suited to golf, particularly in spring and autumn when it is absolutely perfect.
Squeezed between the mighty Pyrenees and the warm waters of the Mediterranean in the northeast corner of the Iberian Peninsula, the Costa Brava is in Catalan country with its own language, distinct culture, appealing architecture and proud traditions. Look for a bullfight, and you'll be disappointed. There's no Flamenco dancing either as Catalans go in for something more akin to line-dancing.
Sport is hugely important, and soccer is a passion. Here they love Barcelona and hate Real Madrid. It's an old rivalry that goes back a mighty long way.
Golf is growing rapidly, and the number of courses is expanding to keep pace with demand. The dozen or so that exist are sure to be joined by others as the Costa Brava makes a concerted bid to become a premier golf destination for the discerning player.
PGA Catalunya's Stadium Course missed the Ryder Cup in 1997
The undoubted jewel in Costa Brava's crown is the Stadium Course at PGA Catalunya. Designed by two European Tour veterans, Neil Coles and Angel Gallardo, it was originally conceived as a possible Ryder Cup venue.
Had planning and construction issues not hindered initial progress and delayed the opening until 1999, it, rather than Valderrama Golf Club, might have hosted the 1997 matches. Although it missed out on the Big One, the Spanish Open was played here in 2002 and 2009 and, partly because of its association with the European Tour, it has also frequently been used for Qualifying School.
There are two tracks. The main one is the Stadium, while next door is PGA Catalunya's Tour Course. The Stadium is an ideal tournament venue because it provides spectators with a wide range of spectacular vantage points from which to enjoy the action.
Its considerable length -- just more than 7,200 from the back tees and 6,800 from the yellows -- means it's plenty long enough. And length off the tee is the key to playing the course, according to Alan Weir, the course marshal.
"I know it sounds a bit obvious, but the secret here is to hit it straight and long," Weir said. "Straight, because there's usually trouble on either side, and long, because there's plenty of length and hardly any short par 4s."
Carved through pine forests, the well watered, lush and rolling fairways limit the roll and ensure the course plays to its full length.
Stadium Course at PGA Catalunya: golf amid imposing hills
Maintained in immaculate condition, the golf course consistently features in the World's Top 100, and it's not hard to see why.
Set amidst imposing hills, there's plenty of height, and the wonderfully elevated tees provide golfers with both inviting drives as well as spectacular panoramas across to the often snow-capped Pyrenees.
The walks from green to tee are often uphill, but the view at the end makes the effort well worthwhile. Buggies are available, but the air is so pure that a good walk and deep breaths will do you no harm at all.
There's plenty of water and a couple of huge lakes that add considerably to the visual appeal. These lakes come seriously into play at 12 and 13, and you'll do well to make it all the way round without at least one decent splash.
White-sanded bunkers threaten on every hole, and there are a few significant carries off the tee that also pose something of a threat.
Property development is underway, but the sites are far removed the course, which thankfully remains blissfully tranquil. A new clubhouse has recently been completed, and the views from the terrace are worth the air fare on their own.
Stadium Course at PGA Catalunya: The verdict
It's not hard to see why the Stadium Course at PGA Catalunya rates so highly on so many lists.
It has everything you look for in an outstanding course -- self contained holes that offer a variety of challenges, wonderfully true greens, superb condition, fabulous views and dramatically elevated tees.
September 30, 2011
Although in his 60s, with a handicap of 15 and lifetime earnings comfortably below $100, Clive Agran nevertheless still believes he can win a major. Arguably England's most gifted golf writer, when not dreaming of glory he's scouring the globe simultaneously searching for lost balls and great golf courses. Follow Clive on Twitter at @cliveagran.