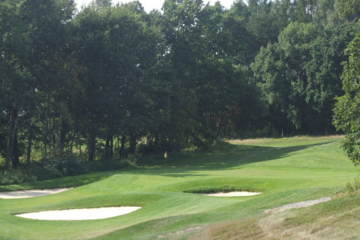 Designed by California architect Roanld Fream, Krakow Valley features numerous American-style design traits (GolfPublisher.com)
Krakow Valley Golf & Country Club's only competition is itself in southern Poland

By Brandon Tucker,
Managing Editor
KRAKOW, Poland - It might be the only 18-hole championship golf course within 120 kilometers, but that doesn't mean Krakow Valley Golf & Country Club is resting on its laurels. The folks here know they have work to do.
"There are only 2,500 registered golfers in Poland," said Malgorzeta Gajkowska, director of marketing at Krakow Valley. "Golf has no tradition in Poland, so we're working to introduce the game to the people in Krakow."
Krakow Valley has the facilities to do it, including a covered driving range, a short-game area and six-hole practice course. Word about the game is beginning to spread, and each free weekend clinic attracts 40 to 50 Poles, young and old, all interested in golf.
Built in 2003, the course was designed by California architect Ronald Fream. Fream is best-known for his designs in Europe and Japan, but Krakow Valley has more American than classic European design characteristics.
Bunkers are large and everywhere (more than 70 all told), and greens are midsize to large. Bunkers are in play on almost every drive and cut into the landing zone a good deal on most holes (though the fairways are tight compared to modern U.S. golf courses). Golf carts, another staple of American golf, are available.
Views of the valley are stunning. The 13th hole has a unique backdrop - a large Jurassic rock formation in the distance. Nos. 17 and 18 also look over the valley, which drops hundreds of feet into a deep abyss.
Measuring 6,518 meters (7,128 yards) with a 133 slope rating from the back tees, the course has good hole variety. The 10th, a tricky, 406-meter par 4, is a particular head-scratcher.
From the elevated tee the hole drops down a hill then rises steeply to the green; it's difficult to judge the distance, and if you're not careful the tee box will line you up right at an out-of-bounds area. Your best bet is to knock an iron down the left side of the fairway, hit another iron short of the green, take a bogey and move on.
While the resort is already popular among Poles, Krakow Valley hopes to bring in more foreign tourists. The facilities are attractive, with on-site lodging and off-course activities like horseback riding in the valley and a shooting range that make for a worthy Eastern European retreat.
While many beginners come to the course daily, Krakow Valley also attracts the country's more seasoned golfers. It hosts more tournaments than any other course in south Poland, including the Lexus Polish Golfers Championship and the Volvo Masters Amateur.
The verdict
One of Poland's upper-echelon courses, Krakow Valley is a good option on an Eastern European swing. The landscape is beautiful and the design has little redundancy.
The tight fairways will test you. While the view is wide open on most holes, the fairways themselves are small and bunkers are everywhere. Bring a pail and shovel. Conditions are pretty good all around, although on this visit the greens were on the slow side. The bunkers were in good shape, and at this course you'll probably take more sand shots than putts anyway.
Green fees range from 170 to 200 Polish zloty (roughly €45-55) and there are discounts for students, seniors and juniors.
Stay and play
The on-site hotel is a recently renovated lodge with 16 rooms, all cozy and air conditioned with a small balcony, spacious bathroom, mini-bar and TV. Free WiFi is available, and there is a conference center that hosts weddings and other functions. The hotel often fills to capacity and is planning on expansion in the near future.
The complex is located in the village of Paczoltowice, about 30 kilometers from downtown Krakow, but getting into the city is relatively easy. Just get a taxi from the hotel to the nearest bus station, about seven kilometers away; from there a three-zloty ticket will get you into the heart of the city.
Dining out
The resort's main dining room offers fish, steak, chicken and pork entrees. Dishes run from 10 to 40 zloty. For something more casual after your round, the club crew grills up sausages and other snacks in a tent overlooking the course. There isn't much else in the immediate vicinity, but there are several restaurants near the Krzeszowice train and bus stations.
Fast fact
Ronald Fream also designed the golf course at Disneyland Paris.
September 13, 2006
Brandon Tucker is the Managing Editor for Golf Advisor. To date, his golf travels have taken him to over two dozen countries and over 500 golf courses worldwide. While he's played some of the most prestigious courses in the world, Tucker's favorite way to play the game is on a great muni in under three hours. Follow Brandon on Twitter at @BrandonTucker and on Instagram at BrandonTuckerGC.