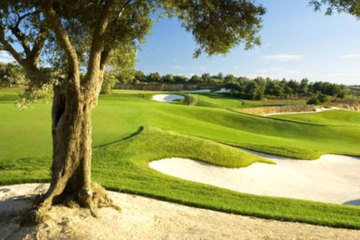 The bunkers on the Faldo Course at Amendoeira Golf Resort can be formidable. (Courtesy of Oceanico Group)
Oceanico Faldo Course at Amendoeira Golf Resort in Portugal's Algarve is a winner

By Katharine Dyson,
Special Contributor
AMENDOEIRA, THE ALGARVE, Portugal - The raw land in the Silves district of Portugal's Algarve couldn't have been more enticing to a golf course architect like Nick Faldo. With gently undulating hills covered in cacti, olive, carob, fig and orange trees, this tract of land in the central Algarve was begging for a golf course.
The Oceanico Faldo Course is one of a pair of stunning designs that serve as the epicenter of Oceanico Group's new luxury Amendoeira Golf Resort.
From the red tiled patio of one of the hillside villas, you enjoy great views of both the Faldo track and the adjacent Christy O'Connor Jr. course, which settles comfortably into the valley.
Opening in 2008, the Faldo Course was built on the more hilly, arid portion of the terrain. But with well irrigated bent grass greens and tees and Bermuda fairways fringed by fescue, the carpet-like playing surfaces deliver ideal playing conditions in this sunny, temperate region where golf is played year-round.
With several elevated tees and behemoth bunkers, the 7,215-yard (5,143 yards from forward tees), par-72 Faldo Course plays more like a desert track than the parkland-style O'Connor layout. You'll need to bring your A-target game to score well.
Rocky outcroppings, plenty of water, including ponds, and a stream which runs along many fairways and large bunkers require good course management right from the first tee: an uphill, 453-yard par 4 that offers a fair idea of what's to come as you face an enormous, sprawling waste bunker, reminiscent of courses in Scottsdale.
The first few holes wind through mature trees, and bunkers shaped like giant Roschart inkblots typically guard landing areas and greens. Hole No. 2, for example, has double trouble.
A long par 3, it requires a carry over a large waste area, particularly challenging from the 190-yard back tee. Then you'll need a precise shot to hit the green and avoid the bunkers.
Many holes require carries from the tee over scruffy stuff, presenting some interesting risk/reward challenges. The fifth hole, a par-4, 399 yarder, is particularly tricky as water sneaks in on the left.
Faldo's par 3s are memorable. Hole 11, at 162 yards (104 yards from the forward tees), punishes misses. A pond, two bunkers and a stream running along the left perimeter make you think.
The hillier back nine features more dramatic elevations than the front, with the 12th climbing up the terraced hills while squirreling around waste areas, trees and seven bunkers. The green is well undulated, too.
Hole 13, another carry over scrubby no-man's land and a dogleg right, is a par 5 killer at 670 yards.
Faldo has said, "When you stand on the tee, the golf hole tells you what to do. And if you do what it tells you there is reward, but if you don't you're penalized." Sound familiar?
It also helps to know how the greens run. Some have severe undulation, including the final hole, a par-5, 542-yarder that takes two target shots to reach a two-tiered green fronting a cliff. A gully divides the fairway in two while bunkers catch errant shots.
Putting out to complete your round, you will want to play this course again. It's a beauty.
"I'm going to practice my sand game and come back later this week," said one visitor from Ireland. "I'm also going to pay more attention to the course guide. I lost some shots because I didn't know about some of the water hazards. Guess I should practice my putting too. But I'll be back. I really liked this course."
Several measures were taken to enhance the natural assets of the land when the course, declared a "Project of National Interest" by the Portuguese government, was built. In addition to re-introducing indigenous olive, carob and cork trees to the area, new wetlands were incorporated into the landscape for a rich wildlife habitat.
Five sets of tees accommodate all skill levels. Additional facilities include a well-designed, nine-hole par-3 course (floodlit for evening use), practice chipping and putting areas, driving range, tuition programs for all skill levels and a state of the art Callaway Fitting Suite. Club rentals are the newest Callaways.
With green fees ranging from $80 to $170, your best bet is to book a golf package that offers accommodation in one of the Oceanico villas or apartments (many with private pools), transfers and play on the Faldo and several other Oceanico golf courses.
June 9, 2009
Katharine Dyson is a golf and travel writer for several national publications as well as guidebook author and radio commentator. Her journeys have taken her around the world playing courses and finding unique places to stay. She is a member of the Golf Writers Association of America, Metropolitan Golf Writers of America; Golf Travel Writers Organization and Society of American Travel Writers. Follow Katharine on Twitter at @kathiegolf.