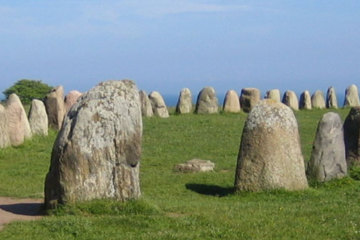 Ales Stenar is the "Swedish Stonehenge." (Courtesy photo)
Golf in Sweden: The land of Vikings, castles and really, really old stuff

By Tim McDonald,
Contributor
Many golf courses in Sweden are close to ancient burial sites, Viking remains and beautiful castles. You can combine the two for a golf/history trip.
MALMO, Sweden - The southern part of Sweden, known as Skane, is sort of like Florida, only they know how to vote in Skane.
Skane is the southernmost region of Sweden and as such gets a lot of sunshine. Today, that means it has the highest concentration of golf courses because it's sunnier and warmer than the north.
It wasn't so different thousands of years ago. Instead of golf, though, the sun-seekers built elaborate tombs and soaring castles and used the three coastlines of Skane to launch bloody Viking raids.
A golf trip to Skane is worthwhile in and of itself because the area has some fine courses and green fees cheaper than most other golf destinations in Europe. The area has around 100 courses, all within easy driving distance.
A string of seaside courses are located around Skane's three coasts, 300 miles long in all, and the interior has a healthy variety of parkland, heathland and woodland courses. The PR people say you can golf in Skane year-round, but it might be a tad cold for those of you without the cold blood of Vikings running through your veins.
Add to that Skane's historical dimensions, and you can combine golf with historical tourism. Skane has more castles than any other region in Sweden, and the area has several sites involving Viking history as well as ancient sites dating back to the Bronze Age.
Here are some suggestions on how to combine the two.
Malmo
Malmo is the third-largest city in Sweden, linked to Copenhagen by the relatively new Oresund Bridge.
South of Malmo is a reconstructed Viking town called Foteviken. The village has declared itself an independent kingdom with its own king, currency and laws. Of course, that's mostly for the tourists, who can dress up with horns on their heads and eat Viking food. The site started as a maritime archaeology center but is now living history, operating in the summer months as close to the Vikings as they can. A youth hostel and cottages are on the outskirts of the village.
Also, Malmo Castle is worth seeing. It was built in 1537-42 and restored in 1870 after a fire. It now houses the Municipal Museum.
Torup Castle is nine miles east of the city. It's a well-preserved 16th century castle, now owned by Malmo, and located in a scenic park. There are guided tours in the summer.
Malmo golf: Barseback Golf and Country Club
Simrishamn
Near Simrishamn is a well-preserved 16th century castle, but of more interest is Kivik, a village that's home to a 3,000-year-old Bronze Age tomb. Called the "King's Grave," it's the largest circular burial site in Sweden, with a stone casket adorned with mysterious images.
The tomb is believed to have hosted large, ceremonial funerals, and contains the remains of several old-timers, including teenagers.
Also, the "Swedish Stonehenge," known as Ales Stenar, is nearby. It comprises 59 mammoth stones laid out in the shape of a ship. They're still arguing over what it all means, just like Stonehenge. It was originally believed to be a Bronze Age burial site, but some now believe it was a calendar. Some say it is up to 5,000 years old.
Golf in Simrishamn: Osterlen Golf Course
Helsingborg
Sofiero Castle is three miles from Helsingborg. It was built in 1865 by Prince Oscar, who would go on to be King Oscar II, for Princess Sofie. It was eventually given to Gustaf VI as a wedding present and became his summer home; the King loved rhododendrons, and the castle grounds are full of them. The city now owns the castle and holds art exhibits and open-air concerts.
Helsingborg golf: Bastad Golf Course
Kristianstad
Kongsgaard Castle is 10 miles northeast of Kristianstad. In Medieval times it was a monastery. It's now a hotel and restaurant.
Golf in Kristianstad: Kristianstad Golf Club
Landkrona
The Citadel, near Landkrona, was built by the Danish King Christian III in the 16th century. It's surrounded by a triple ring of ramparts and moats and reinforced by bastions. It was later used as a prison, and then housed refugees during World War II. It's used by the military.
Golf in Landkrona: Landskrona Golf Club
Lund
Lund Cathedral is in the heart of Lund. It was founded around 1080 by King Knut IV and is considered the oldest and finest Romanesque church in Sweden. The present building dates from the 12th century.
Also, Bosjokloster Castle is nearby, and near that is the Skane Wildlife Park with close to 400 animals from the Nordic countries.
Golf in Lund: Lund Akademiska Golf Club
Sweden travel tips
SAS Scandinavian Airlines is the biggest airline in Scandinavia, specializing in non-stop travel from North America and Asia to Stockholm and Copenhagen. The airline serves Copenhagen non-stop from Newark, Chicago, Seattle and Washington, D.C., and Stockholm non-strop from Chicago and Newark, with Airbus A330 and A340 aircraft.
SAS and its partners offer connecting service to cities throughout Scandinavia, Europe and the world from the SAS hubs at Copenhagen and Stockholm. For more information, see Flysas.com or call (800) 221-2350 (from the U.S.), or + 1 201 896-3600.
May 29, 2008
Veteran golf writer Tim McDonald keeps one eye on the PGA Tour and another watching golf vacation hotspots and letting travelers in on the best place to vacation.