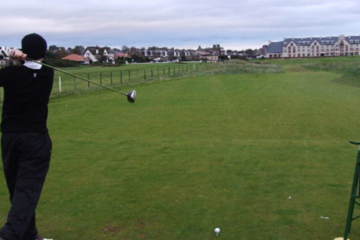 You can still have a good experience at legendary links like Carnoustie in the off-season. (Brandon Tucker/GolfPublisher.com)
Considering off-season links golf in Scotland or Ireland? Here's what to expect

By Brandon Tucker,
Managing Editor
Going on that dream links golf tour in Scotland or golfing Ireland can be expensive. Shoddy exchange rates to the U.S. dollar don't help Americans with the wallet. Getting tee times on some of the most famous golf courses can be tough if you haven't booked up to a year in advance, as well.
So for the frugal or last-minute golfer, it can be tempting to look into the off-season golf trip. It seldom snows in the British Isles, meaning it is "possible" to play golf all year round. Most clubs offer rates at half off or more to reward brave souls. Royal County Down in Northern Ireland can cost up to £150 on summer weekends. In the winter, it's just £55-65 pounds. At the Old Course in St. Andrews, you can play for as low as £61 in the winter compared to £125 peak.
It can be a great value. Hotels and B&Bs are also usually vacant and sharply discounted, too. But there are catches. Here's what to expect if you're thinking about braving off-season links golf in the British Isles.
Temperatures in the winter months range from about 9-13 C, or 48-55 F. Keep in mind that wind chill will make it feel closer to freezing. It's good to pack gloves and mittens, and layer up everywhere. On a calm, sunny day, off-season golf can be quite pleasant.
Most courses are easier to get on. Getting a tee time through the daily ballot on the Old Course in the winter is very good odds. Of course, your window for play is smaller, since it's only light out until 4 p.m. compared to 10 p.m. in the height of summer. You can catch a few awful stormy days, however, like I did when golfing Dublin, where you can't even walk to the bus stop.
What you'll find, though - especially when you're on one of the world's most famous links like Royal County Down or the Westin Turnberry Resort - is that you don't let slightly inclement weather bother you as much.
"If (the Americans) come, they're prepared for the wind and the odd shower; it doesn't seem to bother them," said Charlie McGoldrick, head professional at Enniscrone Golf Club in northwest Ireland.
He's right: Often members - who have access to the course all year - won't bother braving the weather, yet you'll see a group of four from overseas trying to brave the worst of rain and wind. After all, you might only have one shot at this course.
Most of the clubs aren't fully operational during the winter months. They have their own unique off-season playing policies. At the Old Course, you're required to use little artificial turf mats off the fairway. This is also true at Lahinch Golf Club in Ireland. Other courses just ask you not play off the fairway and move your ball to the rough and hit from there. Some courses will close entire holes, especially on soggy parklands. Some clubs will close entirely, like Kingsbarns Golf Links near St. Andrews.
Winter tees are in effect just about everywhere, too, so you'll be playing from the equivalent of a senior tee's yardage in most places. Tournament tees aren't even set up usually. Considering your ball won't be flying too far in the cold and it'll be tough to get much shoulder rotation into your shot due to the fact that you'll have three to five layers on, you won't feel too shortchanged.
In a nutshell, my advice would be to avoid the winter season. Not only are the courses not at their best, but a lot of bars and restaurants aren't even open in these tiny villages catering to summer tourists. It can be pretty desolate. I was turned away at a bar for dinner at 7:45 one night in County Kerry.
Instead, golf Portugal, where you'll find great seaside golf and the weather's in the 70s F and sunny.
That said, you should certainly look into the Shoulder Season, which, depending on the course, is usually in April and October. Greens fees and room rates are still a good discount, and the links courses are in better shape, and the fairways are open for play just about everywhere.
You may also be tempted to play some parkland courses, especially after high winds on the links have numbed your face. What I've experienced with parklands - especially those that are low- to midpriced - is that they have a hard time draining water when there is little sun in the winter. I would avoid them entirely unless you're playing an upscale course like the K Club or Carrick Course in Loch Lomond where they've got a big drainage budget.
The good news about the off-season is that you'll find the courses aren't as busy, meaning not only faster rounds and more encounters with locals rather than tourists, but you can feel, as McGoldrick puts it, "Lord of the Links" as you walk the rugged dunes with no one else in sight.
It can be a surreal, almost numbing feeling - or is that just the wind?
Caddie policy in the off-season
If you want to take caddies, be advised some clubs don't offer them all year long. Almost everywhere in the off-season, you're going to have to call ahead and reserve one, and even then they might not be available on all days or times, so plan accordingly.
August 23, 2007
Brandon Tucker is the Managing Editor for Golf Advisor. To date, his golf travels have taken him to over two dozen countries and over 500 golf courses worldwide. While he's played some of the most prestigious courses in the world, Tucker's favorite way to play the game is on a great muni in under three hours. Follow Brandon on Twitter at @BrandonTucker and on Instagram at BrandonTuckerGC.