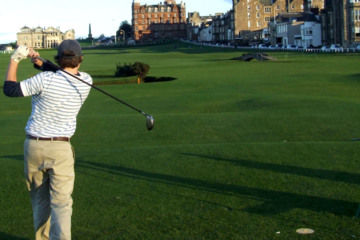 The legendary Old Course at St. Andrews makes a fitting final stop for a Scottish golf tour. (GolfPublisher.com)
Around Scotland in 15 days: A blogger's progress through the cradle of golf

By Brandon Tucker,
Managing Editor
Brandon Tucker recently spent 15 days on a Scotland golf trip, golf clubs and laptop handy the whole way. Driving from Turnberry to Dornoch , he had his share of haggis, roundabouts and Old Tom Morris.
Follow him every step of the way.
Pre-trip: Getting ready for the home of links golf. Tucker gears up for a 15-day journey through Scotland and offers his thoughts and expectations.
Day 1: A wild first 24 hours. "There's nothing like the first 24 hours in a foreign country," Tucker writes. Here's what he took in before his first tee time.
Day 2: Third -world babies for everyone!. Tucker gets a formal introduction to the U.K.'s obsession with tabloids.
Day 3: Taking the round way to Turnberry. It took a little longer than expected, but Tucker has finally arrived at his first golf resort, the five-star Westin Turnberry in South Ayrshire.
Day 4: Golf is blind. Old Tom Morris doesn't build courses with the resort golfer in mind, as Tucker discovered at Prestwick Golf Club.
Day 5: Loch Lomond Golf Club is the area's most acclaimed course, but will soon have company. The Carrick Golf Club at Loch Lomond is set to open next spring, and Tucker got a sneak preview.
Day 6: Royal Dornoch "high" above others in Scotland. The drive to the Highlands is worth every mile, thanks in large part to Royal Dornoch Golf Club.
Day 7: No "tips" temptation. We see more than enough duffers playing from the tips in the States; good thing it's not an option in Scotland.
Day 8: Walking makes perfect. Like many American golfers, Tucker fell into the trap of taking a golf cart on most rounds. In Scotland, it isn't an option, and it's easy to rediscover the true joy of the game while walking 18.
Day 9: U.S. (not) Open. Carnoustie, site of the 2007 British Open, is available for the public to play, unlike the private venues that host most U.S. majors. So what's "open" about the U.S. Open, anyway?
Day 11: No-golf Sundays. While Sunday is the most profitable day at most courses, you won't find any golfers playing the Old Course at St. Andrews, and Tucker doesn't like it a bit.
Day 13: A room with a view. You can drive over the Old Course Hotel at St. Andrews, but watching over the 18th green from the Rusacks Hotel is even better.
Day 15: 'Fore'well!. With no more gorse or pot bunkers to discover the hard way, Tucker finally calls it a trip and offers his final thoughts.
Visit GolfEurope.com for Scotland golf features, reviews and photo galleries.
November 22, 2006
Brandon Tucker is the Managing Editor for Golf Advisor. To date, his golf travels have taken him to over two dozen countries and over 500 golf courses worldwide. While he's played some of the most prestigious courses in the world, Tucker's favorite way to play the game is on a great muni in under three hours. Follow Brandon on Twitter at @BrandonTucker and on Instagram at BrandonTuckerGC.