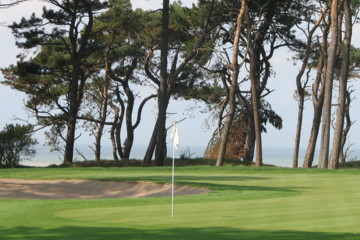 The 17th at Barseback Golf and Country Club is one of the loveliest holes in Sweden. (Tim McDonald/WorldGolf.com)
A favorite of Nicklaus and Trevino, Barseback Golf and Country Club in Sweden won't disappoint

By Tim McDonald,
Contributor
MALMO, Sweden - You don't find many golf courses in America once owned by counts. You're lucky if you can find a count, period.
One of the top golf courses in Sweden, however, boasts this distinction: Barseback Golf and Country Club. The count and his family, the Hamiltons, had a beautiful piece of land by the sea in the relatively flat, southern area of the country called Skane and didn't know what to do with it. We can thank our lucky stars they finally decided to turn it into a golf course.
At its best, Barseback is a lovely Swedish garden, with Swedish pines and gnarled old oaks bordering the lush, pristine fairways. Colorful plant growth adorns parts of the course, but never enough to detract. There are some adjacent fields filled with the bright yellow flowers you see so often in Sweden. The brown-sand bunkers have crisp edges, and there are few homes to detract from all this beauty.
When the fog comes rolling in off the sea, it's such a pleasingly eerie experience you almost forget you can't see the greens, even on the par 3s.
It's also a versatile layout: part links - with three holes open to the North Sea - part woodland and part parkland.
"What I love is it's three different courses," said Jonas Ohrvik, the general manager. "That's very unusual."
Barseback is one of the country's showcase golf courses, a short drive from Malmo. It's a regular stop on the European PGA Tour. Jack Nicklaus, Lee Trevino, Nancy Lopez and Curtis Strange have all played here.
It was founded in 1969 with the opening of nine holes from a design by Ture Bruce. Nine more were added in '70, but it wasn't until '89 that they had two full courses. In 2003, they combined the best holes to form the Masters course, which is where the big events are held. There is also the Donald Steel course, and another layout is being planned.
The Masters is 6,625 meters and has fast, A-4 bentgrass greens, usually protected by some pretty tricky green complexes.
"You miss the green and you're having a hard time," said golfer Per Persson.
Barseback Golf and Country Club: The verdict
The conditioning is excellent throughout the Masters. Because this is a marquee course, the green fees are higher than elsewhere in Skane, which is one of the cheapest places to play golf in Europe. Green fees here are in the $80-$85 range while the average elsewhere is in the neighborhood of $40-$50. Still, the course is worth it.
It has a nice clubhouse with a great view of the sea and good practice facilities, and is one of the few courses in the country accompanied by a hotel.
It isn't an overly difficult course, lacking the infuriating rough other courses in Sweden and Denmark throw at you. The grass-sided bunkers and cross-cut fairways are nice touches and some of the greens are multi-tiered.
The part of the course open to the sea starts at No. 9 and starts to head back inland at No. 12. No. 17 is a beautiful hole, a mid-length par 4 that plays toward the sea, with the green framed beautifully by the water.
Foreign visitors can play here if you can get a tee time. Staying at the hotel guarantees that.
Malmo hotels
The Radisson is a good place for an extended golf trip in Skane. It's located in the heart of Malmo's business and shopping district; Malmo is Sweden's third-largest city, with fine old architecture and a hopping nightlife - not as hopping as Copenhagen 30 minutes away, across the bridge, but hopping nonetheless.
The hotel has direct access to the Caroli shopping center from its lobby. The hotel has 229 rooms, all with high-speed Internet access.
The Radisson has a sauna, and guests can order massages. The restaurant, Thott Brasseries and Bar, has excellent grub, both Swedish and international. It's a popular spot for businessmen and women: the hotel has 25 meeting rooms that can hold 300 people.
If you go
SAS Scandinavian Airlines is the biggest airline in Scandinavia, and specializes in non-stop travel from North America and Asia to Stockholm and Copenhagen. The airline serves Copenhagen non-stop from Newark, Chicago, Seattle and Washington, D.C., and Stockholm non-strop from Chicago and Newark, with Airbus A330 and A340 aircraft.
SAS and its partners offer connecting service to cities throughout Scandinavia, Europe and the world from the SAS hubs at Copenhagen and Stockholm. For more information, see www.flysas.com or call (800) 221-2350 or + 1 201 896-3600.
August 14, 2008
Veteran golf writer Tim McDonald keeps one eye on the PGA Tour and another watching golf vacation hotspots and letting travelers in on the best place to vacation.