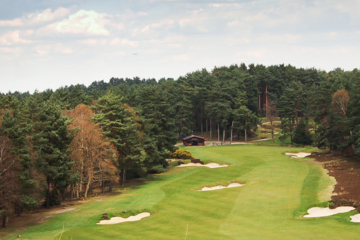 The sublime 10th hole on Sunningdale Golf Club's Old Course. (Courtesy of sunningdalegolfclub.co.uk)
Sunningdale Golf Club near London: Women's British Open host exceeds great expectations

By Clive Agran,
Contributor
Sunningdale Golf Club is in one of the most prosperous neighborhoods in England. About 25 miles from the center of London and roughly 10 miles southwest of Heathrow Airport, it's unashamedly opulent.
A mile or so before you arrive, you will almost certainly pass through Ascot, with its world-famous horseracing track, which Her Majesty the Queen visits every June to attend Royal Ascot. If you have ever seen the movie "My Fair Lady," you will no doubt recall the scene in which Eliza Doolittle embarrassed everyone when she exclaimed, "Come on Dover, move your bloomin' arse!"
That sort of language didn't go down terribly well in the Royal Enclosure at Ascot, and it is almost certainly frowned upon in the equally refined Sunningdale clubhouse. Handsome yet homely, it boasts a lovely veranda, a beautiful old-fashioned clock, and its wooden corridors echo to the sound of bygone eras. The warm sense of history is further reinforced by huge oil paintings and splendid sepia prints.
Sunningdale is twice blessed since it has not one but two stunning golf courses. The Old Course, which opened in 1901, was laid out by Willie Park Jr. and is considered by many the finest inland golf course in the whole of Great Britain. Calling anything 'New' is invariably unwise. The New Course at St. Andrews goes back to the end of the 19th century and the New Course at Sunningdale opened in 1923. Designed by another architectural legend, Harry Colt, appointed secretary of Sunningdale in 1901, the New stands comparison with its illustrious neighbor, and many members consider it the better course.
But the Old is more famous and hosts most of the top tournaments. One of Sunningdale's proudest moments came in 1987 when, for the first time ever on an inland course in the UK, the Walker Cup was played here. Those Brits who questioned the wisdom of sparing their opponents the unpredictability of links golf would appear to have been vindicated as America comfortably won by 16.5 - 7.5.
Bobby Jones' Sunningdale memories
An American who would have had particularly fond memories of Sunningdale is Bobby Jones. In 1926, playing in a qualifying round for the Open Championship, which he subsequently won at Royal Lytham and St Anne's, he shot what many came to regard as the "perfect round." His 66 consisted of 33 shots and 33 putts, and he didn't take worse than a four on any hole. In those days a 66 was truly remarkable, especially when you consider that on 10 of the holes his approach was struck with a 2-iron or wood.
More recently, Nick Faldo won the European Open at Sunningdale in 1992 and in 1997 Karrie Webb emphatically won the Ricoh Women's British Open Championship by eight shots. The Ricoh Women's British Open has since returned twice to Sunningdale, in 2001 and 2008.
Perhaps one reason Sunningdale is considered a suitable venue for a women's professional tournament is that, at 6,627 yards, it is possibly a tad short for the men. It has been known to take a battering, for example when Ian Woosnam won the 1988 European Open with a total of 260. But fears that the modern player with his high-tech clubs will bludgeon it into submission have largely been ill founded. Anyway, the International Final Qualifying for the Open Championship is now firmly established at Sunningdale.
Always presented in superb condition, what's immediately striking on the way to the first is the perfect turf. The fairways are firm and crisp and the greens are quick and true. Beneath them all is the ideal sandy soil, a feature of heathland. Another feature is the heather, which is everywhere in the rough and, though very beautiful in bloom, is best admired from afar. Tangle with it at your peril. The trees, mostly pine and silver birch, also look better the farther away you are.
Apart from the glorious setting and springy turf, what makes the course so hugely enjoyable is that each of the holes is delightfully self-contained, allowing you to play in seemingly splendid isolation. There is no signature hole, as each is every bit as lovely as the others but, if pressed, I would say that the fifth, a 419-yard par 4 with a lake, short right of the green, is simply exquisite. And the view from the elevated 10th tee is generally regarded as one of the finest in golf.
The verdict on Sunningdale Golf Club
Not every course you play lives up to the hype, but Sunningdale somehow exceeds expectations. Everything about it reeks of class and quality and, no matter how bad your golf, you will find it difficult to contain a smile as you stroll around this outstanding inland challenge. If you leave wanting more, come back another day and take on the New.
August 1, 2008
Although in his 60s, with a handicap of 15 and lifetime earnings comfortably below $100, Clive Agran nevertheless still believes he can win a major. Arguably England's most gifted golf writer, when not dreaming of glory he's scouring the globe simultaneously searching for lost balls and great golf courses. Follow Clive on Twitter at @cliveagran.