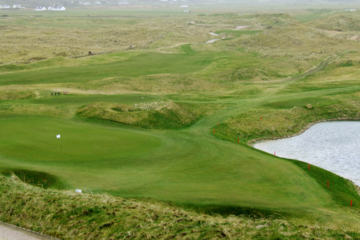 The par-3 seventh on Ballyliffin's Glashedy Links features is an unusually steep drop for links golf. (Brandon Tucker/TravelGolf)
Ballyliffin Golf Club: Golfers find Ireland's northernmost links is well worth the trek

By Brandon Tucker,
Managing Editor
BALLYLIFFIN, Co. Donegal Ireland -- Getting to Ireland's northernmost golf club isn't easy.
By land you must navigate tiny two-lane roads through little coastal villages, as far north as they'll take you. The Foyle ferry is more direct, but it can close in a heartbeat when the waters are choppy.
But those who make it to Ballyliffin Golf Club are amply compensated. Its two golf courses, the Old Links and Glashedy Links, are as rewarding as they are remote.
This is links golf as pure as you'll find anywhere, laid out over sweeping dunes, guarded by rocky terrain, overseen by looming peaks.
Glashedy rock, Ballyliffin's own little Ailsa Craig (of Turnberry fame) broods just offshore. Mountains wrap around the coast. When the afternoon clouds diffuse the sunshine, the club takes on an eerie, almost lunar feel.
This is Irish golf at its most otherworldly, and it's worth the trek. Here's a look at Ballyliffin Golf Club's two courses.
Ballyliffin's Old Links
The Old Links has been in steady transformation since the club was officially established after World War II (golf has been played on the site since the early 20th century). Architect Eddie Hackett oversaw a complete 18-hole upgrade in 1973. A striking new clubhouse was added in 1987.
But the course didn't realize its full potential until 2006, when Nick Faldo's design firm redid the bunkering and several greens.
Faldo describes his initial encounter with the club as love at first sight.
"I first visited Ballyliffin back in the early '90s, and I'd only intended to play the front nine, but I enjoyed it so much that I just had to stay for the full 18," he said in 2005, when the redesign was announced.
The facelift maintained the Old Links' timeless feel. Bunkers are small and difficult to find from the tee. The terrain is consistently rolling but with few steep elevation changes. The par-3 fifth, playing uphill to a green protected on both sides by large, rock-crowned dunes, is a fabulous sight, but any error off the tee is punished.
Ballyliffin's Glashedy Links
Glashedy Links is a modern complement to the Old Links. It opened a little over two years after the 1993 groundbreaking, a testament to the terrain's suitability for golf.
There are subtle differences that reveal the course's youth. Tee boxes are slightly elevated and offer views of the entire fairway on most holes. Visibility and sightlines are much better than on the Old.
Other differences are not so subtle. The par-3 seventh is a very atypical hole for a links course, playing steeply downhill to a green guarded by a pond on the right. It's an aberration, but an exciting one.
One not-so-forgiving element of Pat Ruddy and Tom Craddock's design is the menacing bunkers, plentiful and often steep. Few are hidden, and most should be avoided at all costs.
Glashedy also plays longer than the Old Links at 7,200 yards, but there are four sets of tees, set out at all seasons, to let golfers choose the right distance.
Ballyliffin Golf Club: The verdict
Ballyliffin is far out of the way, and golfers on a regimented, jam-packed itinerary might have to give it a pass. Those willing and able to make the journey will be rewarded with one of the most memorable links experiences Ireland (and Britain, for that matter) has to offer. Both courses are world-class and relatively reasonable.
Dining at Ballyliffin
The second floor of the clubhouse has a fully appointed bar and restaurant overlooking the course, and a balcony for warmer days and cigars.
Ballyliffin town isn't very big, but there are a few pubs here and there. As in many small towns in northwest Ireland, most spots close early - don't expect to find many options after 8 or 9 p.m., especially in the off-season.
Ballyliffin accommodations
The Ballyliffin Lodge, in town about a mile from the golf club, is one of the better local options for traveling golfers.
If you're looking to stay closer to civilization, the Radisson Roe Park Resort about an hour away is a good base. Just over the border in Northern Ireland, the Roe Park has its own parkland golf course and standout amenities, including multiple dining and bar options and a spa.
April 9, 2007
Brandon Tucker is the Managing Editor for Golf Advisor. To date, his golf travels have taken him to over two dozen countries and over 500 golf courses worldwide. While he's played some of the most prestigious courses in the world, Tucker's favorite way to play the game is on a great muni in under three hours. Follow Brandon on Twitter at @BrandonTucker and on Instagram at BrandonTuckerGC.