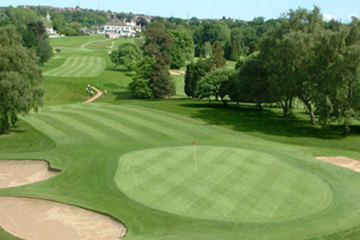 One of Belfast's top courses is Belvoir Park Golf Club. (Courtesy of Belvoir Park)
Once troubled Belfast now a peaceful, fascinating centerpiece to a Northern Ireland golf tour

By Brandon Tucker,
Managing Editor
BELFAST, Northern Ireland -- Northern Ireland, and particularly its capital city of Belfast, has a fascinating, tumultuous history. Thankfully, it's a story presently on a peaceful and exciting note.
This main city within a short drive of some of the best golf courses in Great Britain and Ireland is certainly worth a stop by golfers seeking out Royal County Down, Royal Portrush and many more. Considering the rest of Northern Ireland is on the quiet side, with perhaps the exception of Portrush or Londonderry, Belfast is the place to pub crawl and stay out late.
A century ago, Belfast was a powerhouse linen and ship-building port, assembling the Titanic among other world-class vessels. From about the 1950s through the early 1990s, the city was in a state of political and religious unrest. The Troubles enveloped the country, pitting Catholics sympathetic to the Republic of Ireland and Protestants in favor of the United Kingdom. Tourists stayed far, far away as frequent bombings and killings made international headlines.
The 21st century, however, has brought a return to peacetime. Belfast is prosperous, adding jobs, new attractions and hosting major events such as last year's MTV Europe Music Video Awards. In the city center, Hotel Europa markets itself as the most "bombed hotel in the world," and today the threat of unrest is far enough away that the claim doesn't scare anyone off.
This spring, the big event in Belfast was the opening of the Titanic Experience, an interactive exhibit that depicts the construction and voyage of the infamous ship. Meanwhile, the city that once invented air conditioning is now proudly putting that technology to good use with one of the U.K.'s top ice hockey teams, the Belfast Giants, staged at the sleek Odyssey Arena.
Hotels in the city are in short supply, and developers are scurrying to build more. The Merchant Hotel debuted four years ago as a new boutique hotel that blends the building's Victorian architecture with art deco stylings and was named the U.K.'s finest hotel last year in the International Tourism Awards.
With amenities such as a rooftop hot tub and deck, luxuriously large guest rooms -- plus a dimly lit bar and a restaurant, the Great Room, that makes up the building's largest area -- it's easily Belfast's finest city escape. From here, guests are steps from the many pubs that make up the town's Cathedral Quarter, home to some of the oldest buildings and narrow, cobbled roads where patrons overflow out into the streets on a pleasant evening and where some of Northern Ireland's most famous musicians such as Van Morrison honed their chops.
Another attraction for tourists are the many remnants of a troubled past that can still be explored. A tour through Skankill, a protestant neighborhood that was the center of much political demonstration, is filled with street art. Some murals are sad memorials to those killed in attacks, while others are graphic, like a masked gunman covering the side of a wall, whose eyes and barrels follow the onlooker from any angle.
Visitors who love graffiti and wall art can tour the city all day -- and stop by Springmartin Road and sign a small part of the 18-foot-high Peace Wall.
Golf courses around Belfast
Northern Ireland is such a small country that from Belfast, no golf course is more than about a 60-to-90-minute drive. So from here, groups can golf both the Causeway Coast, home to Royal Portrush Golf Club and Portstewart Golf Club, among others, or head to the Southwest towards Royal County Down Golf Club and Ardglass Golf Club.
Belfast itself, however, is loaded with its own style of golf, including a handful of exceptional layouts that are worthy of visitor play. Minutes south of Belfast's city center is the charming, affluent Malone neighborhood, home to Methodist College Belfast and Victoria College, plus shopping on Lisburn Road. Here, you'll find one of the city's top clubs, Malone Golf Club. Malone is a classically designed, 27-hole parkland set on 330 acres of lightly rolling terrain, ever-scenic with fairways that dogleg around mature trees.
Jostling with Malone for the top course in Belfast is the H.S. Colt-designed Belvoir Park Golf Club. It dates back to 1927 and is just three miles east from the city center. Also designed by Colt, Royal Belfast Golf Club holds a distinction as Ireland's first golf club. It was founded in 1881, though the current course is the result of a new layout in 1925.
Fans of hometown phenom Rory McIlroy can pay a visit to Holywood Golf Club, the club he joined as an 8-year-old. Minutes east of the city, Holywood features a back nine that plays along side a slope that demands real shotmaking.
The closest links course from Belfast is Kirkistown Castle Golf Club, located just east of the city. Founded in 1902, James Braid designed this par-69 course, and it is, in fact, the easternmost links in Ireland). Braid also designed nearby Bangor Golf Club, a rolling parkland that has hosted some of the country's top events in past years.
August 27, 2012
Brandon Tucker is the Managing Editor for Golf Advisor. To date, his golf travels have taken him to over two dozen countries and over 500 golf courses worldwide. While he's played some of the most prestigious courses in the world, Tucker's favorite way to play the game is on a great muni in under three hours. Follow Brandon on Twitter at @BrandonTucker and on Instagram at BrandonTuckerGC.