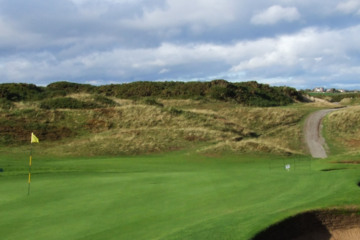 Royal Aberdeen is one of the highlights of a golf tour in the Highlands and northwest coastline of Scotland. (Brandon Tucker/GolfPublisher.com)
St. Andrews to the Highlands: Picking the perfect region for your Scotland golf vacation

By Brandon Tucker,
Managing Editor
Scotland appears small enough on a map, taking out a little sliver north of England, to tempt any golf group into assuming any course is fair game to book during their golf vacation.
True, it's possible to squeeze in all the British Open courses and a few others favorites, from Turnberry to Royal Dornoch in the Highlands, in one trip.
But that means lots of miles (and likely wrong turns through roundabouts). From Turnberry in the south to Dornoch in the Highlands, it's about a five-hour trek.
Instead, try and isolate your golf trip to one region. There are so many golf clubs in Scotland, it makes little sense traversing the entire country just to make your next tee time. It also means you'll save plenty on petrol and have more time to spend in the restaurants, pubs or spas at night.
These four regions boast the highest concentration of world-class links worth jumping across the pond for. Pick which one is right for your group:
East Lothian golf
Just south of Scotland's capital city of Edinburgh is East Lothian, a tiny but golf-rich region most famously home to British Open host Muirfield, along with the world's oldest club: Musselburgh Golf Links.
Be warned, Muirfield is probably the most difficult course to get on for visitors of any Open course, and these days Musselburgh is a modest nine holes encircled by a horse track. But never fear, there are numerous other world-class courses here. North Berwick is regarded as one of the best traditional links in the world, though too short to host any major, and Gullane Golf Club's three links are all worthy stops.
James Braid has put his stamp on the region mightily with numerous acclaimed parklands like Dalmahoy. American designer Tom Doak is finishing up a new resort in the shadows of Muirfield, the Renaissance Golf Club, set to open in the spring.
Top Courses: Muirfield, North Berwick, Gullane, Renaissance Golf Club (spring, 2008)
St. Andrews, Fife
Fife is Scotland's most golf-rich region, not to mention the home of St. Andrews, where you can enjoy more than a week's worth of golf on different courses without even needing a rental car. In fact, you could enjoy a monthlong golf tour and never leave Fife.
Aside from the top courses that demand £100-plus, you'll find numerous lesser-known links that are still worthy of hosting Open qualifiers, like Leven Links. And Open venue Carnoustie is just 45 minutes up the road in Angus.
Top Courses: Old Course, St. Andrews, Kingsbarns, Gleneagles, New Course, Carnoustie, Castle Course (Summer, 2008)
Ayrshire (southwest)
Making a visit south of Glasgow to Ayrshire brings you to three Open Championship venues: neighbors Prestwick and Royal Troon - then the Ailsa at Turnberry about an hour south. Turnberry is also home to a less-prestigious, but formidable, Kintyre course next door to the famous Ailsa.
Then, you can head up the road towards Glasgow to Western Gailes.
Top Courses: Turnberry (Ailsa), Prestwick, Royal Troon, Western Gailes
Highlands/Northeast
Combining the tranquility of the Highlands along with the rugged northwest coast near Aberdeen along the North Sea makes for a solid golf tour on some of Scotland's most-stunning links.
Royal Dornoch, about two hours north of the Highlands' capital Inverness, anchors the golf in the Highlands and is among one of the most-coveted links in the world. Brora to the north, which features grazing sheep and electric wire around greens to keep them off, along with Walker Cup host Nairn between Inverness and Dornoch, make for the best links of the Highlands.
From the Highlands, head south along the coast towards Aberdeen and the northwest, passing Cruden Bay, which features Old Tom Morris at his most extreme; then a few miles south are neighbors Murcar Golf Links and Royal Aberdeen.
Top Courses: Royal Dornoch, Nairn, Royal Aberdeen, Murcar Golf Links, Cruden Bay
January 7, 2008
Brandon Tucker is the Managing Editor for Golf Advisor. To date, his golf travels have taken him to over two dozen countries and over 500 golf courses worldwide. While he's played some of the most prestigious courses in the world, Tucker's favorite way to play the game is on a great muni in under three hours. Follow Brandon on Twitter at @BrandonTucker and on Instagram at BrandonTuckerGC.