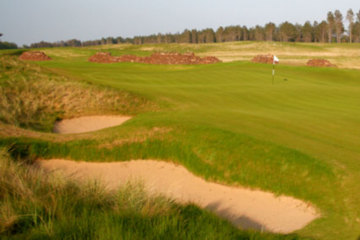 American architect Tom Doak's Renaissance Club will open next door to Muirfield and North Berwick in East Lothian. (Brandon Tucker/WorldGolf.com)
Golf architect Tom Doak keeping links tradition alive with new Renaissance Club

By Brandon Tucker,
Managing Editor
As a young man golf architect Tom Doak spent a year as a caddie at St. Andrews and studying traditional links courses throughout the United Kingdom and Ireland. Now the respected U.S. golf architect is making his own mark on links golf with his new Renaissance Club.
Tom Doak knows a little something about links golf. knows a little something about links golf.
Now one of the world's most respected course designers, Doak spent the summer after his graduation from Cornell University caddying at St. Andrews, learning all the legends and secrets of the Old Course. Then he spent seven months tramping through Britain and Ireland, visiting and studying historic links as he went.
Now Doak - whose Pacific Dunes links at Oregon's Bandon Dunes Golf Resort was recently rated America's best course by Golf Magazine - is back on the hallowed Scotland seaside, putting his own stamp on links tradition with The Renaissance Club.
Nestled between the storied Muirfield and North Berwick links in East Lothian, this golf course and hotel is set to open next spring. GolfEurope.com caught up with Doak to ask him about his firm's latest project and his thoughts on traditional links golf in the isles.
GolfEurope.com: Given the influence Scotland has had on your career, is this project a crowning achievement in some way?
Tom Doak: I don't think of any course as a "crowning achievement" because each project has its own goals and opportunities, and because we hope that there are more good things yet to come. But building a course in Scotland would have to be an honor for any American designer, and I think it meant more to me having lived there for a year right after college.
Mainly, it was a chance for some of my associates to have the same opportunity to live in Scotland that I did, and to really learn what the culture of golf is all about.
GE: Where do you see The Renaissance Club stacking up in East Lothian? Obviously most tourists go for the old links at North Berwick and Muirfield. What will be its niche?
Tom Doak: The goal of The Renaissance Club is to serve as a base for its members to stay in East Lothian and enjoy all of its wonderful golf courses and other attractions. North Berwick and Muirfield are two of my favorite courses in the entire world, and it would be silly to say that any of my courses "stack up" with those, especially a course which hasn't even opened for play yet.
But we believe our course will find its place in the neighborhood. The mixture of parkland and seaside scenery is quite different from the other courses nearby, and The Renaissance Club will be as challenging from the back tees as any of them.
GE: When you look at what golf has become in America - golf carts, expensive courses, an elitist attitude in a lot of high-end clubs, modern courses built too hard for the average player, space-age equipment - do you feel like we've missed the point? Is this what Old Tom Morris had in mind?
Tom Doak: The one point I would argue with you is that golf courses have always been challenging; that is part of the attraction of the game. Old Tom Morris won his Open championships with rounds in the high 70s and low 80s, yet amateur players didn't complain about the unfairness of it all.
But I would agree, the culture of golf in Scotland is way different than in America. The game is more accessible, more affordable, and it takes less time to play so more people enjoy it. It's a true outdoor pastime.
Walking is a big part of that, and I cringe now on the rare occasions when I see a "buggy" on the links. In Scotland the outdoorsmen and environmentalists don't object to golf, because they're the golfers!
GE: The Dell at Lahinch is one of golf's most unique holes. If a 21st-century architect built a hole like that in the U.S., would he ever get another project? When Alistir Mackenzie reworked the course, should he have changed that hole?
Tom Doak: On my year overseas I spent about 2½ hours one day sitting to the right of the Dell hole and watching people play it. Because it's blind from the tee, most players have no idea what's really happening there. A shot that lands right by the flag will probably run to the back of the green, and a shot a bit long will often come off the dune at the back of the green and finish closer to the hole.
When I really came to like the hole was after seeing a player whose tee shot was way short - on top of the dune in front, right by the rock - play a "carom" second shot off the base of the dune at the back of the green and finish dead to the hole, when any pitch straight toward the hole would have had too much momentum.
Plus, the hole is as natural as they come - it's simply a shot over a big dune to a green in a narrow bowl. No way in the world I would change that hole, and I have to believe Dr. MacKenzie felt the same.
GE: Is there a particular region of the British Isles you admire most? Fife? Northern Ireland? Southwest Ireland?
Tom Doak: Every little corner of the U.K. and Ireland has a great course or two to recommend it, and I would recommend people take the time to visit more of the out-of-the-way destinations. [See the accompanying box for Doak's top hidden gems.]
Tom Doak's top five overlooked British Isles links
Silloth-on-Solway Golf Club, England
Pennard Golf Club, Wales
St. Enodoc Golf Club, England
Rye Golf Club, England
Royal West Norfolk Golf Club (Brancaster), England
June 11, 2007
Brandon Tucker is the Managing Editor for Golf Advisor. To date, his golf travels have taken him to over two dozen countries and over 500 golf courses worldwide. While he's played some of the most prestigious courses in the world, Tucker's favorite way to play the game is on a great muni in under three hours. Follow Brandon on Twitter at @BrandonTucker and on Instagram at BrandonTuckerGC.