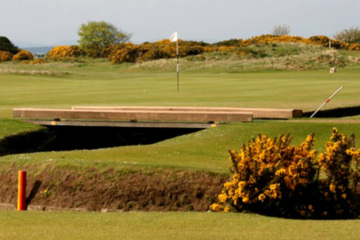 The Swilcan burn lies in front of the first green on the Old Course at St. Andrews. (Brandon Tucker/TravelGolf)
The Old Course at St. Andrews in Scotland: No golf links quite like it

By Brandon Tucker,
Managing Editor
With nearly 40,000 golf courses in the world, how can the first, the Old Course at St. Andrews, remain one of the most unique?
Links style, in an industry full of imitators, is a term used from Florida to Hawaii. But I've still never seen a golf course that comes close to replicating 18 holes at the Old Course.
There is simply nothing close to it, even in Scotland.
Maybe no golf-course architect has the guts to try. The Old is full of unique design traits. Notably, it sits on a small piece of land, thanks to side-by-side fairways and monstrous double greens. The same bunker can come into play on two holes.
But where else can you play a golf course in reverse order, from the first tee to 17th green and so on? Offered each spring for a few days, it served as the original routing of the golf course.
Where else do the two-hole numbers on every double green add up to 18? And who would dare build a golf course with 14 par 4s, especially placing the par 3s just two holes apart?
We've all heard about player-friendly opening holes, but the first fairway here may rank as the biggest in golf.
But somehow, it all works, thanks to 112 bunkers and greens that steal the show. Some of the double greens cover more than 35,000 square feet. The smallest on the golf course, at the Road Hole, measures just more than 7,000 square feet.
And the putting surface at the par-5 fifth hole is 100 yards -- not feet -- deep.
Some holes, at first glance, don't look so special. The ninth, a short, straightaway par 4, starts with a big fairway. So why, in two tries, have I failed to match par here? The gorse comes in close enough to play with your head, as do bunkers in the fairway -- so a good tee shot remains a requirement.
"The surprise is that this hole gives up far fewer birdies than it should," OpenGolf.com writes of the ninth, which will play 352 yards during the 2010 Open Championship.
Video sneak peak: The Old Course in St. Andrews
An acquired taste -- over a few centuries
The Old is easy to write about, like any links with major-championship history dating to the 19th century. But sometimes, I hear writers or golfers who visit the Old proclaim it isn't all that. Some gripe that it's a tough venue to watch golf. Others say when the wind is down, it's defenseless.
No one says these things about Turnberry. Everybody loves Turnberry.
I agree that St. Andrews hardly ranks as the prettiest links once you get outside of the town holes. It's a low-lying links, hidden among dunes, and you can't even see half of the bunkers from close range. If your want a links with loads of great photo ops -- and I love those golf courses -- stick to Scottish courses like Turnberry, Royal Dornoch, or even Royal Aberdeen.
Ireland features some even more visually spectacular golf courses, like Royal County Down, Lahinch and Ballybunion. Truth is, unless you climb atop a ladder, more than half the holes on the Old Course don't warrant a camera.
But it's one of the most complex golf courses you'll play, demanding constant calculation of bunker distances in your head. You've never feared bunkers like on the Old.
Personally, if I ever bring a group to Scotland, I'll stay in St. Andrews for three or four nights and enter the Old Course Lottery every day. We'll probably get a slot at least once, and two or three rounds could well occur. By playing the golf course in different wind conditions, you realize that some bunkers go from seemingly irrelevant to unavoidable -- like the mighty Hell Bunker on No. 14.
The golf gods have a sense of humor here unlike anywhere else.
One of my earliest memories of watching golf on TV came in 1995, when Constantino Rocca stubbed a chip that didn't make it up the Valley of Sin on No. 18. His ensuing 70-footer tied John Daly, and I remember the joy that followed.
The last time I played the 18th, a kid in my group from Sweden sailed his tee shot well right, off a building, over parked cars and into the center of the fairway.
Weird happens on the links of St. Andrews, and it's safe to say the world's first golfing ground may have gotten it exactly right.
July 15, 2010
Brandon Tucker is the Managing Editor for Golf Advisor. To date, his golf travels have taken him to over two dozen countries and over 500 golf courses worldwide. While he's played some of the most prestigious courses in the world, Tucker's favorite way to play the game is on a great muni in under three hours. Follow Brandon on Twitter at @BrandonTucker and on Instagram at BrandonTuckerGC.