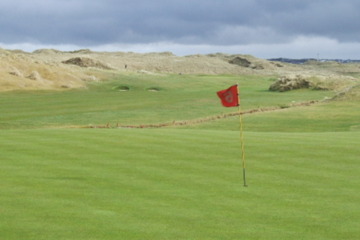 The weather can be unpredictable at links courses like Enniscrone, so it's good to always keep your waterproofs and umbrella handy. (Brandon Tucker/TravelGolf)
Packing tips for your links golf trip to the British Isles or Ireland

By Brandon Tucker,
Managing Editor
Packing for a golf trip to play links golf courses like Carnoustie or Prestwick Golf Club can be tricky, as the weather over the pond pretty much does as it pleases. GolfEurope.com's Brandon Tucker has packed for more than 40 days of links golf, so he knows what to bring and leave behind on an Ireland or British Isle golf vacation.
Watching PGA Tour players gut it out through the cold, rainy British Open at Carnoustie earlier this summer surely posed a difficult question for traveling golfers:
"How the heck am I going to pack for my Scotland golf trip next month?"
It doesn't really matter what the calendar says, the weather in the British Isles and Ireland plays by its own rules. You may encounter cold and rainy weeks in July, warm and balmy days in an off-season golf month like February.
For instance, just a few weeks after a dreary British Open and a seasonably wet July, I found myself in Wales for a week in August and endured exactly one hole of rain over eight rounds of golf.
So packing for your links golf trip can be tricky, since you don't want to be too bogged down with junk. Most groups are seldom in the same hotel more than a night or two, and they don't make cars very big in Europe, so ordering a "full-size" rental doesn't translate to the kind of trunk space it does in America.
I've packed for about 40-plus days of links golf over three separate trips in the past year. Here's my best advice:
• You probably don't need as many golf shirts as you think, since on most days you'll have a windbreaker on. I brought along two short sleeve polos for a week's trip and did just fine. Also, unless you're Swedish or something - leave the flashy oranges and pinks at home - Americans can't pull it off here.
• Waterproofs are essential. Pants, long-sleeve top with a hood on it. Bring rain gloves too. Your finest umbrella goes without saying - one that can withstand some wind. Bring one wool hat that covers your ears for windy days.
• You're likely walking all of your rounds. If you plan on carrying, be sure your straps are in good shape and leveled out (For Americans, it's probably been awhile since you didn't ride a cart, so be sure they're still in working order).
• Bring as many balls as you can fit. Golf balls are horribly expensive in the U.K. and Europe - more than double what you'll find at any golf superstore in the states. Considering the heather and gorse on links courses, plan on losing three or four balls per round if you're a mid-handicapper and even more at penal links like Royal County Down and blind shot-laden Prestwick Golf Club.
• Don't skimp on socks. This is the garment that will take the most punishment. Substitute a few pairs of underwear in place of socks if you're short on space (unless the missus is coming along of course ...)
• Bring two pairs of golf shoes if they are both comfortable and waterproof. It can help your foot's pressure points if you switch every round or two.
What can you leave behind?
• No need bringing Bermuda shorts.
• Clean your bag of any unnecessary items to alleviate some weight (including your range finder - don't be "that guy" using GPS in the land of tradition - even if most courses have little more than 150-yard posts.)
• Consider not bringing all 14 clubs (and their accompanying weight), especially if you're signed up for a few 36-hole days. You'll notice a lot of players over here use a half-set and tiny bag. The way links golf plays, low and running, if you can hit different shot trajectories with your irons, you can have a few gaps.
• You can probably do without a sports jacket unless your group is going uber-formal for dinner. Otherwise, Scotland has lightened up to the casual North American travel lifestyle over the last decade, and you'll be fine with a collared dress shirt.
• If you're spending more than a week here, plan on one day of laundry, so you can pack clothes and leave some space for some Scottish whisky from the Highlands - or a giant chunk of stone from the Swilcan Bridge. Dry-cleaning is expensive at hotels, but if you're in a good-sized town, Laundromats are easy to find.
Odds and ends
• Someone in your foursome should pack a deck of cards and poker chips for a rainy day.
• Leave space available in your suitcase for a bottle of authentic Scottish whisky, or some Bushmills from Northern Ireland.
• Staying in St. Andrews on a Sunday? Bring a Frisbee and throw it around on the closed Old Course. Really.
• At least one person in your foursome (with the best eye) should bring a compact digital camera with a case and big memory card.
• Laptop junkies should bring a U.K. power adapter or find one in the airport on arrival. Ireland uses U.K. adapters, not two-plug European ones.
• I have been to a few clubs where they charged about 10p for pencils, so keep a few in your bag if you'd like to avoid this ridiculous nickel-and-diming.
• Self driving? Go to Mapquest.co.uk and print out maps and driving directions. For North Americans, navigating in the UK is a different animal. If you think it will take one hour to get to the next course, allow for two.
And lastly, don't forget to bring your knock-down!
October 19, 2007
Brandon Tucker is the Managing Editor for Golf Advisor. To date, his golf travels have taken him to over two dozen countries and over 500 golf courses worldwide. While he's played some of the most prestigious courses in the world, Tucker's favorite way to play the game is on a great muni in under three hours. Follow Brandon on Twitter at @BrandonTucker and on Instagram at BrandonTuckerGC.