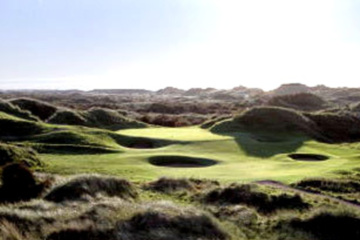 Royal Birkdale Golf Club's tough terrain and sea winds make it one of northwest England's most challenging plays. (Courtesy of Alan C. Birch)
An Englishman makes the case for a golf trip to England over Scotland and Ireland

By Clive Agran,
Contributor
England's own national treasure, Clive "Silky Swing" Agran, makes the case for planning a golf vacation to England -- while, of course, knocking the rest of Great Britain and Ireland down a peg or two.
Unlike the vast majority of their compatriots who rarely, if ever, cross the state line -- let alone travel abroad -- American golfers are comparatively adventurous enough to sample some of the world's great golf courses.
Principally because they don't feel entirely comfortable in countries where the language spoken is anything other than English, they often head for the British Isles. And possibly because their own country has experienced so little of it, Americans are very much better at history. So even though they might have no idea precisely where it is, they do know that Scotland is where golf began. 

In truth, there are a lot of great, if not quite so famous, golf courses in Scotland, but they all suffer from the same affliction that blights every aspect of Scottish golf -- indeed Scottish life -- and that's the Scottish weather.
If you normally vacation in Florida or California, you will struggle to cope with the cold, damp and windy conditions that will almost certainly prevail throughout your trip.
Why not Ireland?
Since pretty much every American sincerely believes that at least half the blood coursing through his or her body is Irish, there is a strong emotional link that pulls golfers and non-golfers alike towards the Emerald Isle.
Although there's no shortage of great golf courses in Ireland, since individually they don't benefit from the sort of exposure the Open Championship venues receive, they are less well known. The K-Club hosted the Ryder Cup in 2006, but because the USA lost, it harbors too many unhappy memories.
What about Wales?
Think 2010 Ryder Cup at Celtic Manor and how close that came to a complete washout. Not only is it very wet, but it's also notoriously difficult to drive around because it's so hilly and the roads are too narrow.
So why England?

All of which leaves only one country in the British Isles in which to go golfing: glorious England. There's so much more to England than policemen with silly helmets, Buckingham Palace and milk in your tea.
There are famous Open venues such as Royal Birkdale Golf Club, Royal St George's Golf Club, Royal Liverpool Golf Club, Royal Lytham and St Anne's; magnificent inland heath courses such as Sunningdale Golf Club, Woburn Golf Club, Wentworth Golf Club and Walton Heath Golf Club; Ryder Cup venues such as the Belfry Golf Club, Ganton Golf Club, Moortown Golf Club and Southport and Ainsdale.
It's got everything, including the very best weather anywhere in the British Isles.

 If you love links golf, there are several hot-spots you should consider. Probably the best is the Lancashire coast around Liverpool in the northwest. Dubbed England's "Golf Coast," there are 12 top quality courses of which seven are in the UK and Ireland's top 100. The Open is at Royal Liverpool this year, so why not build a golf trip around a visit to the oldest major?
There's a string of great links in the opposite corner of the country around the Kent coast in the southeast. Royal St George's is the best known, because it's a British Open venue, but can you name the other two nearby that previously hosted the Open? Prince's Golf Club and Royal Cinque Ports, both of which are just around the corner to Royal St George's, were once on the Open rota. Then there's North Foreland Golf Club to the north and Littlestone Golf Club to the south, both splendid links courses.
Although there was a time when it could perhaps be said that English golf courses were harder for visitors to get on than those in the Celtic fringe, that's no longer the case as financial pressure has broken down the obstacles that previously stood in the way of visitors. Unlike the States, where private clubs are exclusively for the use of members and their guests, so few English clubs don't welcome visitors they are not worth worrying about. What you must remember to do, however, is contact them beforehand to book a tee time, as just turning up and hoping to play might cause difficulties.


Green fees are marginally higher in England than they are in either Scotland or Wales, simply because the cost of living is greater. But they're certainly no higher in England than they are in Ireland, which has earned an unwelcome reputation in some parts as being rather pricey.
The English love their golf no less than do their neighbors and, judging by representation in the Ryder Cup team, are far better at it. The atmosphere inside an English clubhouse is every bit as convivial as it is in Scotland, Wales or Ireland. Although pints of bitter are preferred to either whiskey or Guinness, there's just as much merriment. And, yes, it's true, there was a time when ties were required, there were members lounges and the Colonel would sit in a corner spluttering into his gin and tonic whenever a visitor sporting a loud shirt entered the bar. Thankfully, those times are disappearing faster than the dew on a hot summer morning.
Finally, unlike the Scots, Irish and Welsh, the English speak English in a way Americans can more easily understand.
May 30, 2014
Although in his 60s, with a handicap of 15 and lifetime earnings comfortably below $100, Clive Agran nevertheless still believes he can win a major. Arguably England's most gifted golf writer, when not dreaming of glory he's scouring the globe simultaneously searching for lost balls and great golf courses. Follow Clive on Twitter at @cliveagran.