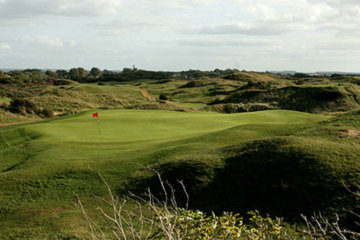 Burnham & Berrow Golf Club boasts a 19th-century Championship Course designed by Herbert Fowler, Harry Colt and Alister MacKenzie. (Courtesy of Burnham & Berrow)
England's Burnham & Berrow Golf Club boasts century of championship pedigree

By Brandon Tucker,
Managing Editor
SOMERSET, England -- On paper, few links golf courses in the United Kingdom are going to stack up with Burnham & Berrow Golf Club's Championship Course in southwest England: 19th century history, plus course design and renovations from three of the game's greats: Herbert Fowler, Harry Colt and Alister MacKenzie.
J.H. Taylor was also the first head professional at Burnham & Berrow, before going on to become one of the U.K.'s great champion golfers of his time. It adds up to one of England's most respected links, admired (and sometimes cursed upon) by golfers even today.
Like many of the top links in the U.K., the Championship Course has been continually altered over the years, and it's present form is thanks to a 1978 renovation. Today, it remains a stern championship test to the modern golfer and is set to host the Brabazon Trophy again in 2011, a top English Amateur stroke play tournament that has been hosted here in previous years.
And here's an eye-candy bonus: The golf course even wraps around the old Berrow Church at the 12th hole (and we all know how much North American touring golfers especially love playing around old stone buildings across the U.K.).
Laid out between the coastal towns of Burnham and Berrow, the club is the gateway to the sunny southwest Atlantic Links of England. Fly into nearby Bristol Airport, and you're just a 20 mile drive southwest to the golf club, and from there you can head on the M5 and A39 further south for more historic gems like Royal North Devon, Saunton Golf Club, St. Enodoc Golf Club and Trevose Golf & Country Club.
But don't be in too much of a hurry to leave. Burnham & Berrow stacks up with the best links golf courses in England. The 6,793-yard, par-71 golf course has a traditional routing, playing outwards for nine holes and then back past the old church and towards the clubhouse.
You'll find out in a hurry that the greens here are a force with which to be reckoned, often large and sloping (sometimes subtly). Couple this with narrow fairways set through towering dunesland and menacing pot bunkers and a handful of blind shots, you're going to have your hands full. It's a course that holds many little secrets and is not the type of course a first-time guest plays for hard cash versus a member.
Holes both long and short can play like a menace here. The par-3 fifth hole is just 153 yards, but the green is raised and set between dunes. The most famous of the par 3s here is No. 17, nicknamed "Majuba." When Colt redesigned the course in 1923, he took out many of the course's blind shots (including altering the 15th around the "Kitchen": A set of dunes that women players almost always seemed to find themselves in), which included the once-short 17th. Instead, he lengthened the hole and added a new tee location, setting it to over 200 yards to a steeply elevated green with a false front and two steep bunkers on the right.
One partially blind shot he didn't touch, however, was the tee shot on the 18th: a dogleg left requiring a tee shot over dunes to the fairway. (He did, however, make the green on the approach shot more visible), before a long approach shot over more dunes to a green guarded by deep pots.
Burnham & Berrow Golf Club: The verdict
Often overlooked in England to the international golfer thanks to British Open venues in the northwest such as Royal Birkdale, or more storied golf courses to the east like Royal St. George's, those in the know seldom pass by Burnham & Berrow without stopping for a round.
Club facilities at Burnham & Berrow include a pro shop, locker room, pub and restaurant with a delicious post-round lunch menu. It's also home to a second, nine-hole Channel Course, which plays about 3,000 yards along the shoreline next to the Championship Course. In 2006, new tees were added to make it an 18-tee, nine-hole course.
Green fees on the Championship Course are £65-£75 peak season.
Stay and Play: Woodlands Country House Hotel
Recently purchased and upgraded by experienced hoteliers Peter and Glenda Botes from South Africa, it doesn't get much more tranquil than the Woodlands Country House Hotel, a former Victorian farm house set on four scenic and shady acres just minutes from the golf club at the foot of Brent Knoll. Guests can walk to the top of this 137-meter-high hill and enjoy expansive views of the southwest countryside.
Dinner is cooked here nightly with fresh, organic, local produce, and all the ensuite rooms are especially comfortable. There is also a small and cozy bar with apertifs and an extensive wine list, including many from the owners' native South Africa.
From here you can also take a day trip to the historic Roman city of Bath.
If you're looking for something a little more low-key, the club recently renovated their dormy house on site. Packages are available through the club for two rounds of golf on the championship course, one night accommodations and breakfast.
For more information on Burnham & Berrow, Woodlands Country House Hotel and the rest of England's Atlantic Links, visit www.Atlantic-Links.co.uk.
February 23, 2009
Brandon Tucker is the Managing Editor for Golf Advisor. To date, his golf travels have taken him to over two dozen countries and over 500 golf courses worldwide. While he's played some of the most prestigious courses in the world, Tucker's favorite way to play the game is on a great muni in under three hours. Follow Brandon on Twitter at @BrandonTucker and on Instagram at BrandonTuckerGC.