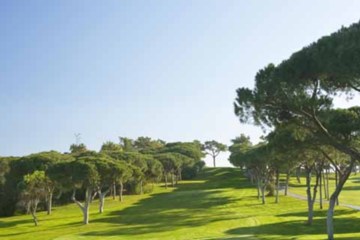 The pine-flanked Oceanico Old Course has a lot of dog legs all the way around. And trees. And bunkers. In short, this course requires you to think. (Katharine Dyson/WorldGolf.com)
The Oceanico Old Course appeals to traditionalist golfers in Portugal's Algarve

By Katharine Dyson,
Special Contributor
VILAMOURA, Portugal - Jose Dias was just 11 years old when the Oceanico Old Course in Vilamoura opened. Born in Cercal do Alentejo, north of Algarve, and moving at a young age to the Algarve, he had no thoughts at all that he would one day be a golf professional.
Today everyone on the Algarve golf scene knows Jose, a boyish 51 year old with a ready smile.
He's not only the club professional at Oceanico's Victoria Golf Course in Vilamoura, venue for the European Tour Portugal Masters, he's the "go to" guy for visiting golfers, an unofficial ambassador to Algarve golf for the Oceanico Group, which now owns seven championship tracks in the Algarve including Victoria and the Old Course.
Oceanico's Old Course is kind of like José: a tradition and interesting with lots of surprises.
Located in the heart of the Vilamoura seaside holiday resort just 20 minutes from Faro, the Old Course was built in 1969. True to its name, it is often described as the Grande Dame of the Algarve. Designed by Frank Pennick, it was remodeled by Martin Hawtree, reopening in 1997.
In 2007, the Oceanico Group bought the Old Course along with Victoria, Pinhal Golf Course, Laguna Golf Course and Millennium Golf Course. The company also built two designer tracks by Faldo and O'Connor in the nearby luxury 640-acre Amendoeira resort.
Jose has played the Old Course often. He's a fun, easy guy to play with. Lighting a cigarette at odd moments while making the turn or waiting to hit, he is not shy about offering a tip or two if asked.
I did. I was having trouble keeping it straight. "Bring it back like this," he said, grabbing my club to show me the arc.
Oceanico Old Course: A challenge
That advice was particularly timely as the pine-flanked iconic Old Course has a lot of dog legs all the way around. And trees. And bunkers, though not a lot of water. One shot may require a slight fade while the next, a draw or lay up at the turn. This course requires you to think.
I could see trees were going to be a big issue here starting with the first hole, a downhill par 4 with a realistically reachable tree smack in the middle of the fairway.
I managed to avoid it, but my playing partner's ball glanced off the trunk and flew into the rough on the left, under a tree.
What is it about these lone umbrella pines? Playing hole No. 4, a par 3 at 178 yards, you have to pitch over the only pond on the course and a single pine with bunkers protecting the green even further.
The green and tee are elevated, but you need to pay attention to club and wind conditions to make par here. Indeed, that's good advice all the way around.
Holes No. 11, 12 and 13 are all doglegs with some degree of risk and reward. Hole No. 12, a par-5 dogleg left, dictates a short drive to be safe, but you can get more distance by going over the pines thereby cutting the corner.
Precision shot-making is required here as there is out of bounds on the left. The second shot is uphill through a narrow pine tree-lined fairway with a bunker on right and a pair of bunkers on either side of the green.
This is not a course where you will be bowled over by drama or length at 6,264 yards, or wowed by artificial waterfalls or island greens. Its beauty is more subtle and should appeal to fans of Ross and Tillinghast.
Take hole No. 9, a par-4, 289-yard test. Hitting from an elevated tee to an elevated green, you will want to place your drive thoughtfully to set up the second shot, a slight dogleg right. Trees could block your shot to the green if you're not careful. A wise decision might mean leaving your driver in your bag.
The golf course rolls over the contours of the land while umbrella pines spread over the landscape and define fairways, not only a signature feature of the course but one of its more formidable challenges.
Oceanico Old Course: The verdict
Later our golf gang went out to a local Portuguese fish restaurant. Jose joined us. In fact, he picked out the place, but, then, Jose should know. Before he got into golf, he worked in a hotel and had his own restaurant. And, yes, everyone in the restaurant knew him, too.
Just like people remember the Old Course and want to play it again when they return to the Algarve, so, too, people remember Jose and make it a point to come back and take a lesson or two. He's made a lot of friends over the years. Like the Old Course.
The Old Course has four tee boxes making it a favorite play for many visiting golfers for its playability. There is also a driving range, putting green and clubhouse with a grill room.
There is a new clubhouse which settles well into its surroundings, modest in size with a front porch, it overlooks the practice green.
Villas, a fixture along the majority of the resort-driven Algarve fairways, are not as prominent on the Old Course with buildings running along just one side of the track.
Nearby, Oceanico's new Amendoeira Resort has a Golf Resort Academy and Callaway Fitting Suite along with the nine-hole, flood-lit Academy Course, a good bet for beginners and those desiring to ramp up their short game. For more information, see www.oceanicogolf.com.
July 16, 2009
Katharine Dyson is a golf and travel writer for several national publications as well as guidebook author and radio commentator. Her journeys have taken her around the world playing courses and finding unique places to stay. She is a member of the Golf Writers Association of America, Metropolitan Golf Writers of America; Golf Travel Writers Organization and Society of American Travel Writers. Follow Katharine on Twitter at @kathiegolf.