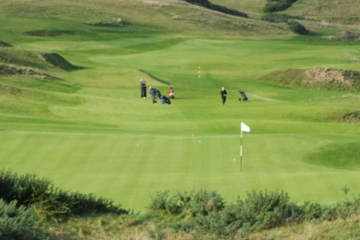 Opened in 2000, Kingsbarns is the shiny new kid on the St. Andrews block. (Brandon Tucker/GolfPublisher.com)
Kingsbarns in St. Andrews: A 21st-century complement to golf's hallowed ground

By Brandon Tucker,
Managing Editor
ST. ANDREWS, Scotland - It doesn't take long on a Scotland golf trip to discover that the locals think highly of tradition. Ask any member at the golf club you're playing about the course and you'll be treated to a gushing ode to its founders and its history, replete with colorful stories.
Even if the golf course is less than a decade old.
They play the tradition card too at Kingsbarns Golf Links, the new kid in the hallowed home of golf.
Kingsbarns opened in 2000, but the clubhouse and locker rooms are filled with black-and-white photos and paintings of Old Tom Morris. Course literature notes the founding of a Kingsbarns Golfing Society in the late 18th century.
The small club seven miles from St. Andrews proper was closed so farmers could harvest the area in 1850. A second, nine-hole course built in 1922 was shuttered during World War II, when the site was mined by the allies.
The new Kingsbarns may have sod bunkering and a stunning, raw links location, but at 7,126 yards from the tips, there's no mistaking it for old-school. Designers Mark Parsinen and Kyle Phillips elevated the tees just enough to make landing zones easily identifiable, and the multiple boxes offer different angles on each hole (and make the course more women-friendly).
But what Kingsbarns gives you in playability off the tee, it quickly takes away on the greens, which as tough to score on as any in Scotland.
In contrast to the firm, large greens at the Old Course and other links classics, Kingsbarns' putting surfaces have enough subtle contours, tiers and ridges to drive you mad on your first play. No putt or chip is safe.
Visually, Kingsbarns is a cut above the Links Trust courses down the road. They are mostly flat and protected by dunes from the sea; Kingsbarns, with its amphitheater effect, slopes toward the water, which comes into view at ever turn.
Something else sets Kingsbarns apart from its neighbors: trees. Yes, this links course has tall trees in play. Not many - just a small cluster down near the 11th and 15th greens. But it's enough to give the course a totally different look for this part of Fife.
The standout holes are the par-5 12th and the 15th, which is gaining a reputation as one of Scotland's finest par 3s. Both play around the rocky shores of St. Andrews Bay. The long par-4 18th is designed for maximum drama, with an elevated green perched over a burn (see sidebar).
Kingsbarns Golf Links: The verdict
This is one of Scotland's most expensive rounds (£150, but you do get a little plaid goody pouch with a stroke saver, divot tool and bag tag), but for my money it stands second only to the Old Course in St. Andrews golf. Kingsbarns is a fine modern edition to the game's storied old ground. You won't be disappointed playing here, but your putter will be working overtime.
Closed during the winter months, the course re-opens for the 2007 season on March 1. It's also closed one week in the fall for the Dunhill Links Pro-Am.
St. Andrews hotels
You won't find a better spot in St. Andrews than the Macdonald Rusacks, a four-star hotel overlooking the 18th green of the Old Course. There are 48 rooms, and several suites have patio views that are nothing less than enchanting.
Rooms have modern amenities but traditional charm, there's plenty of street parking and you're just steps from the action. There's nothing like walking from your room to the first tee of the Old Course, just like the townspeople did for centuries. Many pros stay here when St. Andrews hosts the British Open, or simply for leisure.
St. Andrews dining
For casual dining, the Kingsbarns clubhouse has a good menu and great chili for chilly days. In St. Andrews, you can meet friends or simply watch sports at the Dunvegan Grill, which has a wide bar menu as well as more formal fare. For fine dining, try the newly remodeled restaurant at the Macdonald Rusacks.
Fast fact
Despite its youth, Kingsbarns was invited into historic company as one of three rotating venues for the annual Dunhill Links Pro-Am, along with the Old Course and Carnoustie.
Spotlight on: Kingsbarns' closer
The par-4 18th is a monster, designed for high drama and big scores. Stretching more than 430 yards from the men's tees, it plays slightly uphill off the tee to an elevated green perched steeply over a burn. You don't see the dangers ahead until you reach the fairway, and any approach shot that lands short rolls slowly, slowly down to the burn. It's cruel, really.
The current runs fast too, so you better hustle down there if you want your ball back.
April 23, 2007
Brandon Tucker is the Managing Editor for Golf Advisor. To date, his golf travels have taken him to over two dozen countries and over 500 golf courses worldwide. While he's played some of the most prestigious courses in the world, Tucker's favorite way to play the game is on a great muni in under three hours. Follow Brandon on Twitter at @BrandonTucker and on Instagram at BrandonTuckerGC.