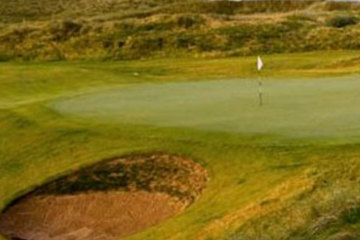 The bunkering at Doonbeg lends a classic feel to this newest of Ireland links golf courses. (Courtesy of doonbeggolfclub.com)
Self-planned trips to Ireland save money, deliver great golf

By Kiel Christianson,
Senior Writer
COUNTY CLARE, Ireland - Ask any golfer for his or her dream vacation, and more often than not, Scotland will be the answer. Over the lastdecade, however, the Birthplace of Golf hasbeen besieged by golf tourists from Tucson toTokyo. As a result, the price of everything from green fees to hotels, fromsingle-malt Scotch to haggis has sky-rocketed. And tee times at the big-namecourses are filled up from now to next season.
In the mid-1990s, as Scotland boomed, Ireland quietly grew in popularity among knowledgeable golf travelers. PGA Tour pros such as Mark O'Meara, Payne Stewart and Tiger Woods began slipping over to The Emerald Isle to gear up for the British Open. Ireland became a favorite alternative to the busloads of golf tourists who overrun Scotland and England each year, a place where even the most famous golfers on the planet could practice, eat, fish, and relax in peace and relative quiet.
Today, Ireland is the new Scotland, with tourism growing into the nation's largest industry. Although prices aren't as reasonable as they were just a few years ago, budget-conscious golf travelers can save 20 percent or more over a comparable trip to Scotland, with adequate planning and research.
Planning a golf trip to Ireland
The first decision one has to make when contemplating a golf trip to Ireland is whether to plan the trip oneself or go through a tour operator. The choice depends on how much time you want to invest, because time invested will result in money saved. Robert McCurdy, who recently planned a trip for eight men (including this writer) spent two full years researching courses and accommodations.
"By planning it myself," estimates McCurdy, "I think we paid 20 percent less than we would have through a tour operator."
The most difficult aspect of developing a golf itinerary in Ireland is choosing a set of courses to play. Although not quite as rich in golf heritage as Scotland, Ireland offers its own collection of world-class seaside links and parkland courses. Ballybunion, Lahinch, Old Head, Royal Portrush, Ballyliffin, Portmarnock, Tralee, The K Club, The European Club, Carne, Connemara, Enniscrone, Donegal, Waterville, and the Greg Norman masterpiece Doonbeg are all worthy of any aficionado's must-play list. The problem is the logistics.
The most common mistake made by first-time visitors is underestimating the time it will take to get from place to place. Most Irish roads are narrow and often clogged with farm machinery during summer months. It may take an hour or more to commute between two towns that lie only 30 miles apart.
And once you get to the town you want, it might not be easy to find the course. In Ballybunion, for instance, the turn-off to arguably the most famous links on the island is marked with a small, solitary sign reading simply "Golf Course." Miss it, and you'll be driving around the tiny town for at least another 15 minutes.
In Lahinch, the turn to linksland that once felt the footfall of Old Tom Morris himself isn't even marked with a sign; if it weren't for the enormous dunes rising from the sea shore, you'd not know that a golf course existed here.
Accommodations
The lush green landscape of Ireland is dotted with nearly as many bed and breakfasts, inns and hotels as it is with cows. And here is where the savvy golf traveler can find some truly amazing deals.
In the course of his two-year planning for a golf trip to counties Kerry and Clare, McCurdy uncovered two gems of very different character and style
The first was Barrow Country House in West Barrow, Co. Kerry, a recently renovated manor house dating from 1723. Barrow House is owned by an Irish hotelier with properties in Killarny and South Africa.
According to Lorraine Walsh, the charming manager of the inn, its close proximity to Tralee, and Ballybunion Golf Clubs, along with the tourist favorites of the Dingle Peninsula and the Ring of Kerry attract numerous golfers, who account for 70 percent of guests.
"It's great," said Walsh, "(Golfers) are all up in the morning and then gone all day." Walsh also notes that the golfers appreciate the peace and quiet the 16-room inn offers, and the view of Barrow Bay, right outside the front door, and the full Irish breakfast included in the cost of the room (including smoked salmon!).
In Co. Clare, McCurdy and his group were immersed in a much more rustic atmosphere, ideally suited for guys on a golf trip. Keane's Oyster Bar stands within and easy drive from Lahinch, Doonbeg, Kilrush (kilrushgolfclub.com) and Kilkee (kilkeegolfclub.ie) Golf Clubs, and offers an in-house pub and a surprisingly diverse and gourmet menu. The Keane family staffs the establishment, and makes every visitor, whether over-night or dinner guest, feel immediately at home.
Michael Keane, the white-bearded proprietor of Keane's whose ancestors have been on this spot since 1641, is a jack-of-all trades: oyster farmer, historian, chef, bartender, peat-cutter. His menu features home-farmed oysters, a wide variety of locally-caught seafood, and locally grown steaks and pork. Keane admits that his cooking skills are all self-taught, "through trial and error," but the results of that hard work have turned Keane's into one of the area's hidden hotspots.
As for the accommodations, Keane's can sleep up to four foursomes in comfort, between a three-bedroom cottage and four apartments. The occasional spider in the shower and aroma of nearby cattle might be too rural for some tastes, but for a group of guys who want to kick off their cleats, smoke a cigar, learn about Co. Clare history in the Keanes' visitor information center, quaff a stout or cider in Keane's own pub, and rehash the day's round, this place is tough to beat. And the location, near the famed Cliffs of Moher and the seaside resort town of Kilkee, is also ideal for non-golfers.
Food & drink
The Scots and English have a reputation for awful food. Sometimes, the Irish are included in that group, though unfairly so. Irish cuisine has come a long way from the potato famine. The spices and ingredients employed by Irish chefs are generally more varied than those used by their Celtic brethren.
Seafood is king here, but you will also find steaks of a size and flavor unrivaled in Scotland or England. Most entrees come with a choice of "chips and salad" or "potato and veg." The former, for Americans, is French fries and a usually large garden salad; the latter usually consists of boiled new potatoes and a selection of seasonal, uniquely prepared veggies. At Keane's in Co. Clare, the "veg" included cheesy cabbage and Creole turnips, both of which were so popular with the McCurdy group that seconds and even thirds had to be requested.
While Scotland has single-malt Scotch, Ireland has Guinness. For timid palates, the thick, rich, delicious blackness of a stout might be too much. And for these poor souls one can only offer pity and a pint of Smithwick's Ale, a mellow yet still flavorful Irish red. And of course there's the famous (or infamous) Irish whiskey, of which Bushmill's and Jameson are the most famous. For something different, try Tullamore Dew (a personal favorite).
The skinny
A huge part of Ireland's charm lies in its people. While the Scots are genuine connoisseurs of the game as well as gracious, loyal hosts, visitors might detect a subtle air of aloofness off the course, and rigidity on.
(I am reminded of an incident at the Dunvegan Hotel restaurant in St. Andrews, when I was asked by a companion how my "hot" wings tasted. I said simply that they were not hot, but were delicious. I was immediately chided by the manager, sitting at the next table, who said, "You're not in America," followed by, essentially, "so quit your bitching and eat your food." If she had bothered to eavesdrop on the totality of what I was saying, she would have heard a compliment, rather than a complaint.)
Golf tourists in Scotland are warned to take off their caps inside clubhouses (and if they forget, are often asked by members to do so), not to wear shorts on the links (even on the rare hot days), and to keep a handicap card in their wallets, because certain clubs will ask for evidence of playing proficiency, especially after seeing your first tee shot arc weakly O.B.
The Irish, on the other hand, are renowned (and, at times in history, have been reviled) as chatters, as lovers of life, who take neither themselves nor even the game that is also an integral part of their culture too seriously. While consideration on the links is always maintained, the late-to-bed, late-to-rise, easy-going atmosphere of the Emerald Isle transfers to the course. Visitors here should not be surprised or offended when wayward shots into waist-high rough are greeted with clearly audible curses and oaths from their caddies, flowed by good-natured ribbing and even impromptu swing tips.
Moreover, many Irish - aside from those who live in close proximity to areas where U.S. NATO troops and weapons are processed - feel an affinity with Americans. Everyone we met, it seems, has a relative in the States.
Ultimately, any avid golfer should experience both Scotland and Ireland, and do so many times. Realistically, however, traveling to these bastions of great golf isn't something that most people can do more than once or twice in a lifetime.
If cost is a deciding factor, Ireland has the edge over Scotland, despite the rising green fees on high profile tracks (e.g., 135-140 Euros at Lahinch, Ballybunion, and Doonbeg; lesser-known courses from the list above, however, are still a relative bargain), as it is still not as well-known to golfers (and is also strangely lacking in tourists from Asia). By planning the trip to Ireland oneself, world-class golf, comfort and superb food and drink are all within reach.
Fast fact
Many Americans seem to be under the impression that Ireland might be a dangerous place to visit, due to conflicts between Catholics and Protestants. Although the orange in the nation's flag represents Protestants, the green represents Catholics, and the white represents hope for understanding between them, recent violence has occurred in Northern Ireland, which is governed by Britain, not the Republic of Ireland (which is an independent nation). And thanks to a truce and on-going peace talks, even Northern Ireland has remained largely peaceful over the past five years.
September 23, 2005
Kiel Christianson has lived, worked, traveled and golfed extensively on three continents. As senior writer and equipment editor for WorldGolf.com, he has reviewed courses, resorts, and golf academies from California to Ireland, including his home course, Lake of the Woods G.C. in Mahomet, Ill. Read his golf blog here and follow him on Twitter @GolfWriterKiel.